Written in Red – Book Review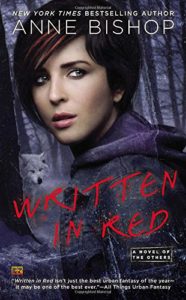 My friend, Colleen, recommended Written in Red, by Anne Bishop, to me a few weeks ago. At first, I was waiting for it to become available through my library but when my cousin pointed out the Kindle version was only $2.99 on Amazon, I decided to go ahead and buy it. Glad I did.
Written in Red starts takes place an imaginary world, a bare mirror of our own, where Humans are not the apex predator they are here but instead another food source for the terra indigene, or The Others. The Others are every form of nightmare imaginable, vampires, were-animals and others that have no corresponding creature in our current mythology (though I do have my theories on what Tess really is). These creatures control the lands, natural resources, etc. and merely tolerate humans for some of the goods they produce. There's a tentative truce between the groups but with The Others firmly in control.
When the story begins, we meet Meg, a "human", stranded in a winter storm, on the run from someone, looking for shelter and a place to hide. She stumbles into a "courtyard" areas in the center of human cities, controled by the Others, and meets the leader of that Courtyard, Simon Wolfguard. As our story progresses we quickly learn Meg may not be as she appears, and her presence in the courtyard will have ripples throughout both the human world and that of the Others.
Written in Red – My Thoughts
This book definitely falls into the realm of Urban Fantasy and reeks of similarities to the Sookie Stackhouse series of books. What I like about this book though is we're in a different world. Not a hidden world, superimposed upon our own but entirely different world with its own mythology, geography and religion. I love when an author can create a world like that.
Written in Red – My Pet Peeve's
There were a few things though that did bother me about the story. The first, our antagonist, Asia Crane, seemed … canned. And honestly, I could have done with a little less time in her brain.
Which brings me to another pet peeve, I prefer when the author tells the story from one characters point of view, when possible. Or, if within multiple, then not within the same timeframe or chapter. So many events/chapters, are told from so many different viewpoints, Meg's, Simon's, Monty's, Asia's… it goes on and on. I found it unecessary and slowed the story down.
Hence, my last issue with the story, it moved slowly. I would have preferred a quicker pace with perhaps a little less detail about some of the mundane things. For example, I don't need a detailed description of which paths The Others cleared in the courtyard after a snow storm.  There was just some tediousness there that I ended skimming through.
Written in Red – My Rating
Forgetting my peaves though, this is the first book in a long time that I was anxious to read. Not fully, blow off work and sit on my couch to read it but definitely made a push to get through. It's not for everyone. You need to be a fan of this type of fantasy adventure to want to give it a go. If you like Sookie Stackhouse or the Unded and Unwed series, try it! I'm torn between 3.5 stars and 4 on this one but I will give it 4 for Good Reads purposes. Looking forward to the next book in the five-book series, Murder of Crows, more than any other book in my queue at the moment.