What I Will Miss About Winter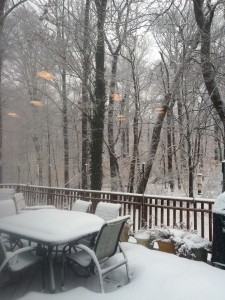 I like winter. I do. I like the stark beauty. I like colder temperatures. But even me, after this past winter, am looking forward to spring and warmer temperatures.
That said though, as I sit on the lanai of my bedroom in a resort at the Florida Keys, hoping that when I return home winter will be gone, I know there will be things I will miss. I thought I'd ramble a bit and note them here.
Flannel Sheets
Without a doubt! I love, love, love my flannel sheets! Chris bemoans the fact that each year they seem to creep onto our bed a little early (now around my birthday) and they stay on our bed longer into the spring (we must be clearly out of 50 degree temps at night before I will remove them). I don't care. I love there soft caress and sometimes toy with the idea of running my air-conditioning at 62 degrees at night in the summer to justify keeping them on my bed year-round; I'm just to cheap to do that.
Snow
Not the shoveling kind. Not the big black piles that form at the end of aisles in strip mall parking lots. Not the yellow kind that Fergus McLovin makes. The kind that clings to trees and falls softly and silently. The kind that makes the whole landscape look pure.
Cold Temps
Okay – I don't like when temps dip into the twenties. And as I'm anxious to ride my bike I don't like the 30s much these days either. But I love brisk cool nights, when you don't need to run the air-conditioning. I love that morning in autumn when you walk outside and can see your breath for the first time. Or those cool temps that justify lighting the fire pit and sitting outside at night with a glass of red wine and a blanket on your legs.
Scotch
Sorry – to me whisky is a cold weather drink. Once the temps start to rise, I don't want a scotch nightcap. I want some icy limoncello to end my day.
Red Wine
I know there's all that stuff about matching your wine with your food but I match my wine to my season and when warm temperatures return I switch my wine drinking to whites and roses. I may indulge in an occasional red (especially red sangria) but not too often.
LL Bean Fleece Lined Shirt
If you have one, you know what I mean. If you don't, and you live in cold weather area, get one! They're not on the website right now (because you know spring is here) but they'll return in the fall. Order early because they often sell out by Christmas and then thank me when the temps dip and you are completely comfortable.
Uggs
Like my fleece-lined shirt, I love wearing these boots when it's cold. It's like a hug for my feet!
The Food
Let's face it, there are certain dishes you just don't eat in the spring summer, stew, chili, braised meat among them. Hot weather lends itself to lighter foods but there's nothing like a thick rich soup or stew on a cold winter day.