Weight Watchers Freestyle
This week Weight Watchers unveiled their new plan – Weight Watchers Freestyle. It's really not a new plan as more of an updating or tweaking of the old, Smart Points.
Smart Points – Prior to Freestyle
In Smart Points each food is assigned a point value per serving. Each person has a number of points worth of food she is allowed to consume in a day. This number varies by factors such as sex, weight, activity, etc. You keep track of the food you eat (tracking is important), subtracting from your overall amount until you basically have no points left for the day.
You don't have to eat all your points. Weight Watchers suggested coming within three points of your total on a daily basis. If you go over, don't worry. In addition to your daily points, you also received weekly points. These weekly points adjusted too based on factors such as sex and weight. They are present to allow for the occasional splurge and to handle situations like parties, dining out, etc. However, foods such as fruit and vegetables (except starchy ones such as potatoes and corn, or fatty ones such as avocado), were all zero points. Thus encouraging people to eat more vegetables and snack on fruit, rather than on empty calories.
Smart Points – Example
For example, when I started being really serious about losing, I had 32 daily points and 42 weekly. If I had 2 eggs for breakfast they were 2 points each, so that would knock me down to 28 daily points. If I had 4oz of turkey breast on two slices of 647 bread for lunch, with veggies sauteed in oil, that was another 4 points to deduct, so down to 24 points. That left me plenty of room for dinner, some popcorn, even a cookie or some ice cream at night. I would save my weekly points mostly for the weekends. So on Friday or Saturday nights, for example, I could have an 8oz glass of wine, at 7 points for the glass. Last week, prior to Weight Watchers Freestyle, I was allotted 35 weekly points and 30 daily points to acknowledge the 40lbs I'd already lost. However, I found the decrease in weekly points somewhat challenging.
Smart Points With Weight Watchers Freestyle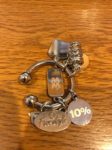 With the new Weight Watchers Freestyle plan unveiled this week, my daily points allotment dropped to 23 points while my weekly remained the same at 35 points. That's a significant drop. But, here's the great part, there are now over 200 zero-point foods! Zero point foods are no longer limited to fruits and vegetables! In addition to those, you can now enjoy items such as boneless skinless chicken breast (and turkey), all sorts of fish and my personal favorite, beans and lentils! The theory being these are healthy, filling foods, and by focusing your dietary intake on these items, you will be less likely to over indulge (or have room for), the higher fat, high sugar foods that may kill your diet. It also removes the need to do a lot of tracking, which some members found onerous. I admit though, I'm still tracking everything. It keeps me honest.
Rollover
In addition to the lower points for daily intake, and the 200 zero-point foods, Weight Watchers also re-introduced the rollover concept. I say re-introduced because I'm pretty sure that we had that in a prior incarnation of the program. Anyway, with rollover, if you don't use all of your daily points, you can roll the leftover (up to four points), into your weekly points. This works great for many of us. Since we may adhere strictly to the program Monday through Thursday, but would like to indulge a bit on the weekend.
Freestyle Example
Starting the program on Tuesday – here's what my daily food intake has looked like:
Tuesday
Breakfast: 2 eggs (0 points)
Lunch: 2 eggs over refried beans with 1/3oz of Cabbot Extra Sharp Cheddar on top (1 point) – By the way, in the past I would have always used fat free cheese. It felt (feels) amazing to be able to have these small indulgences now!
Dinner: My Turkey Chili and a Corn Muffin (5 points)
Snacks: Halo Top Cinnamon Roll Ice Cream (7 points – I indulged in a cup and if you haven't had this yet, you must), Weight Watchers Peanut Butter Protein Bar (2 points), Grapes (0 points), Apple (0 points) – 9
Tuesday Total = 15 points, which means 8 left over, 4 of which went into my weekly total.
Wednesday
Breakfast: 2 eggs (0 points), 1 Corn Muffin (5 points)
Lunch: Leftover Turkey Chili (0 points)
Dinner: Trader Joe's Stir Fry Shrimp and Vegetables (0 points), Shirataki Spaghetti (0 points), sesame oil (1 point), Stir Fry Sauce (1 point)
Snacks: Halo top Pancake and Waffles Ice Cream (4 points), Popcorn (3 points), Apple (0 points)
Wednesday Total = 13 points, so you got it 4 points rolled over!
Thursday
Breakfast: Egg Whites, Onion and Lox (0 points) – lox – yes lox is zero points!!!
Lunch: Chili Lime Black Bean Soup (0 points)
Dinner: Slow Cooker South Indian Lentil Stew (0 points)
Snacks: – Okay I went crazy on the snacks today – Corn Muffin (5), Popcorn (5), Halo Top Chocolate Chip Cookie Dough (9)
Thursday Total = 19 points – still rolled over 4 points.
What this all means? I rolled over 12 points, so tonight when I go out to dinner for Indian, I'm feeling pretty confident I can navigate the menu, and enjoy a glass of wine, and still be within my points range!
Weight Watchers Freestyle – My Thoughts
This has to be by far, the most flexible Weight Watchers program I've experienced. Trust me, I've experienced programs for over 35 years! It really encourages healthy meal choices by focusing on lean proteins, vegetables and yes beans! Can you tell I'm excited about the beans? I already feel as if I have a bit more energy and well …  healthy. It's only three days in but I haven't felt any horrible cravings (unlike Sunday when I gorged on silly crackers). I've felt satisfied and I'm once again getting the hang of eating until satisfied not overstuffed (there's a fine line there when dealing with beans).
Furthermore, the idea of the next few holiday weeks don't feel daunting. The idea of all the dining out not so hard either. Why? Because I now know I can navigate breakfast and lunch at zero points, saving point availability for dinner. Or vice versa, basically, allowing me more flexibility to navigate my day. If I lose weight on this program, it will be fabulous as I know this is a program I can live with for the rest of my life!
I'm looking forward to Tuesday's weigh-in.