Disclosure: Some of the links below are affiliate links. At no cost to you, I will earn a commission if you click on the link and make a purchase.
Two Ingredient Bagels – Some Bagel Background
I'm a sucker for a bagel so the idea of making Two Ingredient Bagels hit home! First though, you should know, I'm not talking about those things you call bagels outside of the NY Metropolitan Area. Sorry. I can eat pizza other places. I can eat hot pretzels other places. I can eat hot dogs (aka dirty water dogs) in other places. But when it comes to bagels, I'm sorry no where in the world compares to NY metro. Just accept that.
And I'm not talking bagels from a chain such as Manhattan Bagels, Einstein Bagels, or even Panera (though I will admit an addiction to Panera's Cinnamon Crunch bagels). I'm talking bagels from your local bagel store. And trust me, everyone living in the NY metro area has a local bagel store. Local bagel stores, are things discussed and compared at family dinners (citing last Friday's Chanukah dinner as an example). Sometimes within a family, deciding from which bagel store to get your bagels on the weekend can cause mass dissension and fights.
Bagels are so important here, that when I visit my daughters out of state, Mike (my local bagel guy), will let me in early (5:30am),  so I can pick up fresh bagels to bring the girls because I know there will be hell to pay if I don't bring them bagels. And my mother did the same for me. She brought me bagels (and Chris pork roll – yes pork roll!) during our six-year St Louis exile.
Get it? Bagels are serious business here.
So when Kim (not me, a different Kim) posted in my Weight Watchers Facebook Group that she had a recipe for a two ingredient bagels, I was interested and skeptical.
Two Ingredient Bagels – Some Caveats and The Bonus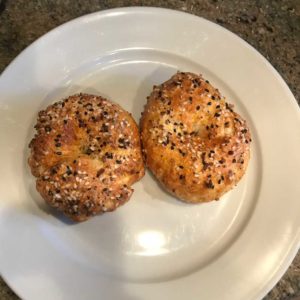 First let's clarify – these are not really two ingredient bagels. These are really two main ingredient bagels. In total, these are really five ingredient bagels. That said, it should not deter you.
Also, Kim stated these are normal size bagels. I'm not sure where she gets her bagels (aka her local bagel store), but when I made them, these came out smaller than my local bagel store. That could be on me – maybe I should have made them thinner but whatever.
Last thing you should be aware of (and the best from my point of view), these bagels are 3 Weight Watchers smart points each, 5 weight watcher smart points for two! And yes, this is on the new Freestyle Program.  For comparison a normal bagel (from the local bagel store), can be anywhere from 9 – 11 smart points. That alone was enough to get me to dive into making them.
My Thoughts
These are incredibly easy to make. I forgot to time myself but I doubt I spent 30 minutes making them. Maybe more like 20 minutes. It's crazy to think you can have a fresh warm bagel in 20 minutes! Note though, I baked mine in my Phillips Air Fryer – to do them in the oven, you are looking at a 20 minute bake time.
As I've already mentioned, these are smaller than my normal bagel store bagel but they are bigger than those character-less Thomas's Mini Bagels.
They don't really have that chewier outer of a good bagel with the doughy inside. More doughy really. And without yeast (yes did  I mention there's no yeast here), it's a different texture – hard to describe. My daughter thought them sweeter but she wasn't sure that was the correct word. Let's just say different.
I also didn't try slicing them and seeing how they hold up to some lox or some fried egg, or some egg, bacon and cheese, or a pork roll egg and cheese…. okay sorry was getting distracted.  They smelled so good, I just dug into the first warm, still steaming from the oven.
And you know what, it tasted good! It's not my local bagel store bagel though. Yet you need to remember, in Weight Watchers, we talk about what will satisfy you versus what you want. So some days, maybe only a really good piece of sharp cheddar will work for you and others, you can be satisfied by some fat free shredded cheddar. Some days, maybe a 99% fat free Hebrew National will do the trick, and others, you want a full fat Hew National. You learn to recognize what you need, what you want, and what will satisfy.


Two Ingredient Bagels – Conclusion
In a pinch, these quick to throw together bagels, will definitely satisfy me. They're not my local bagel store, but since I only eat half a bagel on occasion now (probably less than once a month), it's nice to know I can wake even on a weekday morning, make these and have some scrambled eggs with an everything bagel for only 3 points!
Check out the recipe below.
Ingredients
1/2C self-rising flour
1/2C plain, fat free Greek yogurt
pinch of baking powder
Trader Joe's Everything But the Bagel Seasoning
1 Egg yolk or 1 egg white
Directions
If using an air-fryer, preheat to 360°, a regular oven, 350°. Spray your air fryer case with a bit of Pam (or line a cookie sheet with parchment paper if you're using an oven). I recommend this because my bagel stuck a bit to my fryer case.
Make your egg wash by beating either an egg yolk or an egg white with a tad of water. I find that an egg yolk gives a glossier finish but an egg white is better for you and will do just as well.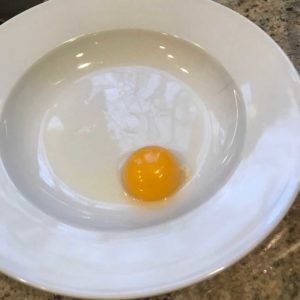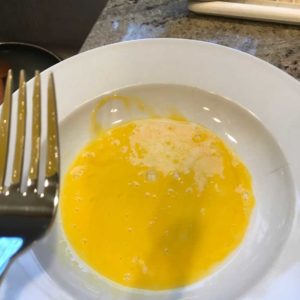 Measure out flour.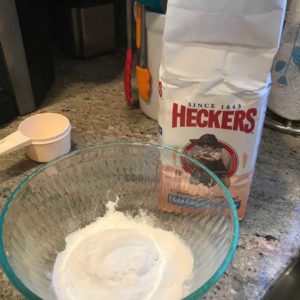 Add a pinch of baking powder.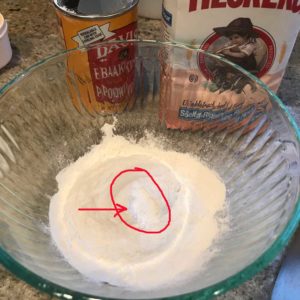 Add 1/2C of of fat free yogurt.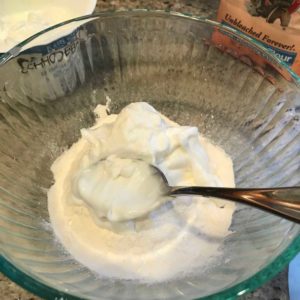 Mix it together. It will be weird at first.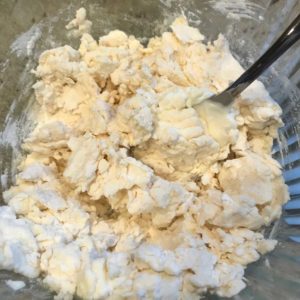 But then will start to come together.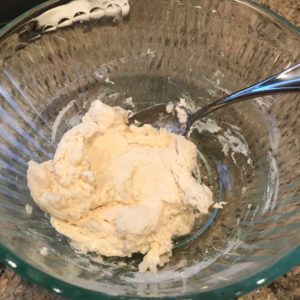 And finally into a ball.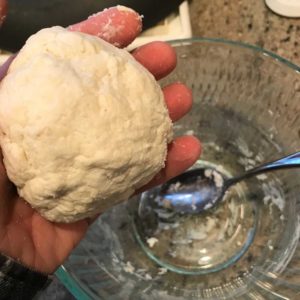 Cut the ball in half.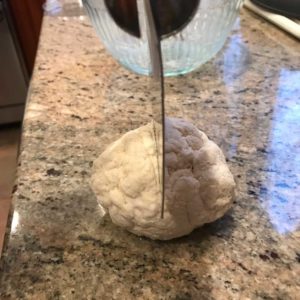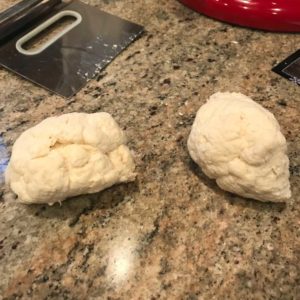 And form each half into a ball. By the way, the dough was a bit sticky (see my hands). I resisted the temptation to add more flour.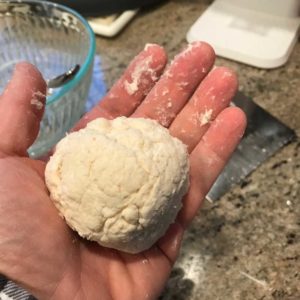 Punch a hole in the middle of the dough and shape into a bagel. Brush with egg wash.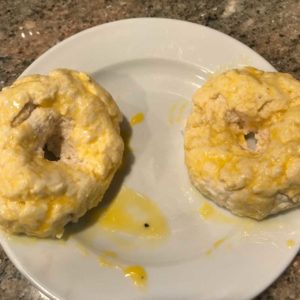 Sprinkle with Everything But the Bagel seasoning (from Trader Joe's).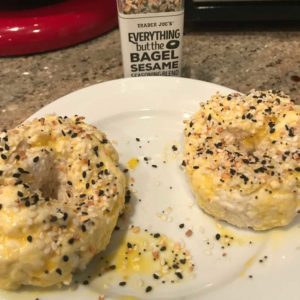 Put them in your air-fryer basket (or on the cookie sheet for the oven).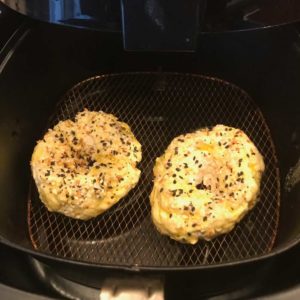 Bake for 8 minutes (20 minutes in the oven) and voila!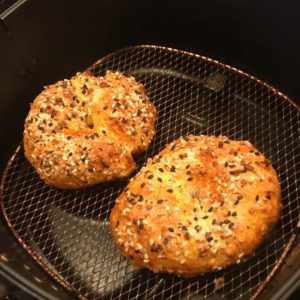 You've got a bagel!