Turbo Twenty-Three Book Review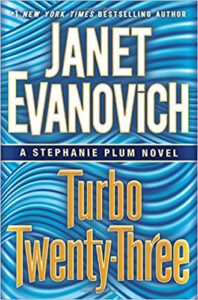 I'm generally a fan of Janet Evonovich's Stephanie Plum series, so no surprise that I read Turbo Twenty-Three nor is it a surprise that I'm writing this Turbo Twenty-Three book review. It may be a bit of a surprise that I read it seven months after publication. Unfortunately, that's how long I had to wait for the Kindle version to become available via my public library.
If you're familiar with the series, then you know Stephanie is a bounty hunter operating out of Trenton NJ. Along with her sidekick, Lula, and other assorted zaney characters, she always gets into trouble as she tries to bring in the bad guys. Usually these antics require the help of almost fiance, Joe Morelli and sometimes lover Ranger.
Here, the "fun" begins when Stephanie tries to capture a skip who leaves behind a semi-truck filled with ice cream. Upon opening the semi, Stephanie discovers one frozen dead body decorated as an ice cream bar. It's not long before Stephanie goes under cover in the ice cream factory to determine who killed the man and sabotoging the company along the way.
Of course there are side stories. Most notably Lula's adventures with Randy Brigs as they try to film a pilot for Naked and Afraid in Trenton.
Turbo Twenty-Three Final Thoughts
Anyway, as far as my Turbo Twenty-Three book review, Janet Evanovich has an easy to read, often humorous format. She uses it to produce these books and Turbo Twenty-Three is no different. However, if like me you've grown tired of the back and forth between Stephanie, Joe and Ranger, this one may grate on you. If not, go for it, you'll have an enjoyable few hours of reading fun.