Touring Masseria Il Frantoio
This is it, our last chance to head to Lecce do we do it? Well, first we have breakfast with Graham and Barbara who are heading to Umbria by way of Abruzzo today. While at breakfast, one of the girls stops by and tells us that they're offering dinner tonight at Il Frantoio (a last minute thing). Of course we accept, but I'm a bit bummed because if I'd known about tonight, I wouldn't have eaten at Il Frantoio last night and instead returned to da Renzino. Oh well.
After breakfast, Armondo does an olive oil tasting for the bike group before they too hit the road, which we sit and listen to. And then, our Swiss friends ask us to join them and Armondo on a tour of the property in Armondo's antique car, so much for Lecce.
We cram into the car and I feel like one of those circus clowns; you know the sixteen or twenty that pile out of the miniature Volkswagon beetle.
We drive through this incredibly large, incredibly fertile property filled with massive olive trees, plum trees, peach trees, cherry trees, pear trees, pomegranate trees, dozens of different types of vegetables, wheat, wild artichokes, wild fennel, even cork trees and massive shade trees for as Armondo puts it, natural air-conditioning. Rosalba uses all of this produce in her cooking as well as in the products made at Il Frantoio.
After our tour, we decide to visit the baby pigs born ten days earlier. I'm glad we didn't see baby pig on the menu. We also stop to pet the horses, then decide to change and take out the bikes along the trails. The bikes turn out to be not in the best shape, so we abandon them back at the stables and opt for a walk instead, basically following the course of our early morning tour but stopping for several pictures along the way.
Eventually, as we try to make it to the hills (mountains) at the back of the property, we stumble upon a building with a pen holding several different types of animals (chickens, goats, sheep) all sorts of stuff. Of course at that moment, three large dogs scare the living daylights out of us as they came running down the path. They're actually pretty friendly and we sit and play with them for a moment until some other dogs, by the building start to bark. Those dogs don't seem as friendly so we turn back. I'm still not sure if that area is part of Il Frantoio or belongs to a neighboring farm.
Well, that killed our morning pretty good and we're both getting hungry. Breaking our rule for the second day in a row, we decide to head back into Ostuni and to Cattedrale for another meal (Chris can't stop thinking about the orecchiete with bread crumbs). One of the girls calls for a reservation (I am so terrible with names); we change and hit the road again.
Arriving in Ostuni, after all of a five minute ride, we park in our normal lot but when I go to pay, I notice that payment is not required during siesta, cool. We approach the old city by way of Piazza Liberta, rather than the steps by Porta Nuova. Many of the stores are closing for siesta as we climb the hill to the restaurant.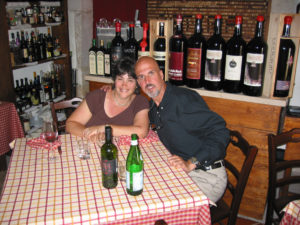 For lunch, we sit in the front room and once again enjoy the incredible antipasti, only this time there are a few differences, among them we're served some sort of bulgur wheat salad and no baccala. Chris orders the orecchiette and I have spaghetti with tomatoes and chicory, both delicious and we both think mine actually beats his. We share some of that soft and juicy melon for dessert and this with water and the house red, a primitivo, comes to about 50€.
After lunch, we stroll through the town, get some more gelato in the piazza (but nothing fantastic) and then head back to Il Frantoio. Earlier in the week (Monday, I believe), we'd asked about laundry facilities. Before our trip, I had e-mailed them and asked if they have them, to which they replied they did. It turns out, they don't but the girls who clean the rooms will wash your clothes for you and return them, which is what we ended up doing. Only, we hadn't received them back. When we asked about that this morning, at first no one understood what we were talking about and after some language issues and miscommunications, we finally understood that the clothes would be returned to us this afternoon. Now, they are nicely folded in two bags on our bed with a bill, which we pay directly to the maid, for 25€. Ouch.
Chris runs while I read Patricia Cornwall's Black Notice. I'd finished Grapes of Wrath yesterday and since Chris hadn't finished his book (I should have started with the longer one), I needed something else to read. In the common room at Il Frantoio, they have dozens of different books in different languages (including tour guides) for the guests to read. Black Notice isn't anything great but it's mildly entertaining.
We're experiencing the coldest day since our arrival, only around 17 degrees, so I end up sitting in the common room reading, rather than outside in the courtyard. Eventually, Chris joins me, after he makes some purchases from Il Frantoio's cantina (olive oil, four bottles of Negro d'Amaro from our first night, all citrus liquor, and some toppings for bruschetta. We hang until dinner.
Tonight we're seated with a couple from Luxemborg. It proves awkward at first because we don't speak "Luxemborg" and they don't feel comfortable with their English. Turns out they're English is wonderful and once they feel comfortable, we converse through most of the meal. We compare restaurants in the area and all over Italy – they're major foodies (driving down to Paris for specific ingredients on occasions) and into wine even more than Chris. Funny thing, as we're enjoying the second bottle of red that evening, the wife comments on the taste, and, yep, we end up sending another bottle back. I think we're jinxes or something but given how many bottles Il Frantoio goes through on any given day (I've seen the dead soldiers after dinner – I'd say 40 – 50 a night sometimes), it's no wonder you get a bad one now and then.
Tonight's Menu:
Antipasti:
Crocchette di patate con mandorle o semi di papavero (Potato croquettes with almonds or poppy seeds)
Morbido di caprino allo zafferano con pere e composta di pre (Soft Goat Cheese with saffron, pears and pear jam)
Melanzane in scapece e zucchine alla menta (Sweet and sour eggplants and zucchini in mint) – with this we're served a special wine, Le ricordanze, Semillon e Riesling, Taurino
Primi:
Straccetti al finocchietto selvatico con purè di fave e biete (Hand made pasta with wild fennel, fava beans pure and swiss chard)
Secondi (served with Sarolo Don Carlo, Cucciguaniello, Santoro)
Involtini e salsiccia di maiale con sponzali al cotto di vino (Pork rolls and sausage with young onions and sweet cooked wine)
Insalata Misa con Nasturzi (Mixed salad)
Dolce:
Macedonia di frutta Fresca (fresh fruit salad)
Quando L'amaretto è un semifreddo (When bitter almonds is ice cream)
After dinner we're off to bed, and to finish my book so I can return it in the morning.