The Marvelous Mrs. Maisel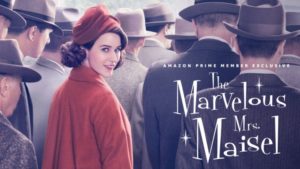 Shh… don't tell anyone but I spent some time this week binging The Marvelous Mrs. Maisel. It's a new series available to those who have Amazon Prime. (Not sure if you can pay for it if you don't have prime.)
The Marvelous Mrs Maisel – A Little Background
The Marvelous Mrs. Maisel comes from the creators of Gilmore Girls, Amy and Daniel Palladino. It's set in the late 1950s in NYC, specifically backdropped against The Upper West Side and The Village (or really in contrast with).
In it, we're told the story of Miriam "Midge" Maisel, college-educated mother of two who seems to have the perfect apartment, perfect husband and acts the perfect wife. Of course, it's not long before this all falls apart. Trust me, I'm not giving anything away here that you couldn't figure out from the commercials.


Gilmore Girls Reincarnated?
Like the Gilmore Girls this show has an assortment of quirky characters intermixed with some real life personalities (e.g., Lenny Bruce as played by Luke Kirby). Also like the Gilmore Girls, the show is filled with quick, witty banter. Furthermore, you may recognize Alex Borstein as Susie. Alex played the harp player early on in the Gilmore Girls series. Also, similar themes run through this show as the Gilmore Girls: mother-daughter relationships, daughter-parent relationships, relationships between friends, independence and what does that mean, etc.
There are probably more similarities too between the shows but let's talk a bit more about what's different.
First off, this is not a show I would watch with my tween and teen daughters as I did with Gilmore Girls. I think Midge or Suzie must drop the F-Bomb at least three times a show. Where Gilmore Girls paid hommage to small town life, this does not. We are in bright lights, big city mode here with a special nod to the West Village (love the mention of Cafe Wha!). There's more vivid talk about sex – though not more vivid sex scenes. And lastly, we're in full on Jew mode. Midge, her family and really her social circle up until the point the show starts are all Jewish.
The Marvelous Mrs. Maisel – My Thoughts
I've watched the entire season, and want more. There were definitely some problems. For example, I recognized the arc of Midge and Joel's relationship from the start. There are also some inaccuracies. Such as, it's not Yom Kippor Dinner, it's break fast. At break fast we usually eat breafast food – not roast meats.
Yet as we enter what feels like a second women's movement, it's incredibly interesting to see some insight into what it may have been like at the beginning of the last movement. It's especially interesting to see it reflected in what is still the male-dominated field, of stand-up comedy.
So if you're a fan of the Palladino's and the shows they produce, give this one a shot. I don't think you will be disappointed.