The Guernsey Literary and Potato Peel Pie Society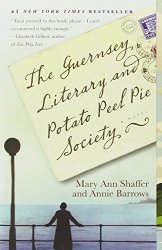 I love "beach" vacations (or in this case pool) where I can sit around, reading and doing not much else. So our latest trip to the Atlantis proved just the tonic to recharge my battery and help me get caught up on some reading as I finished four books in our five days, one before we even landed in the Bahamas (a two hour delay in Fort Lauderdale airport will do that to you). Could have gone five for five too if we hadn't spent so much time socializing and drinking in the lounge, due to the rain.
Anyway, the last book I read (as in read this one yesterday), was The Guernsey Literary and Potato Peel Pie Society book, our next book club selection. I thought I'd write about it first though, since it's already so fresh in my mind.
The book is written in letter format, in that it's a series of letters, telegrams, and for a brief moment, some "journal" entries of about a dozen individuals, all focused around the main character, a writer named Juliet Ashton. So all the letters are either from her, to her, or between her friends, and often mention her. Through these letters, we come to learn the story of the German occupation of the Channel Islands, specifically, Guernsey, during World War II, as the letters are all written just after the war, in 1946. But that almost becomes background to the story of Juliet and how she builds a new life for herself, all initiated by one letter from a member of the Guernsey Literary and Potato Peel Pie Society (and yes, you must read the book to find out how they came up with that name – makes me wish our Book Club had a cool name too).
Anyway, once I got used to the format, took about six pages, and one flip backwards to confirm some characters in my mind, I totally loved this book! I would definitely recommend it to anyone with a fascination of WWII (like me), and even if you don't, as interspersed with the history are also love stories, of different sorts. Basically, what I'm saying is read this book.