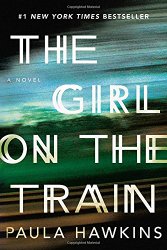 Sammi told me she was reading The Girl on the Train for her sorority book club so I thought I'd give it ago, especially since it won the Goodreads 2015 Awards for Mysteries and Thrillers. It grabbed me immediately with shades of Rear Window and Gone Girl but then didn't hold me as I thought the "hook" took a little long to reach. I persisted though and once the hook happened was able to plow through.
Spoiler
That said, the bouncing between the three main female characters and their time frames could be a bit disconcerting (pay attention to the dates at the beginning of the chapters to know where you are). And while I liked the idea of the flawed hero (she's a raging alcoholic), it got a bit tiresome and I just wanted to slap her a la Moonstruck and say, "Snap out of it!". Finally, I did figure out who the murderer was although the author did throw in plenty of red herrings.
[collapse]
All said and done, it was an easy read and I'm glad I read it. I'm still not sure if I'm going to give it three (I liked it) or four (I really liked it) stars on Goodreads so it's probably a 3.5 stars for me.