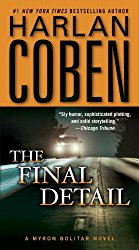 The Final Detail is the sixth book in the Myron Bolitar series and unfortunately probably my least favorite… for the first half. In it, Myron's new business partner andformer assistant, Esperanza, is accused of killing one of Myron's former schoolmates and client. Of course Myron rushes headlong into The investigation damn the consequences in the hopes of clearing his friend.
Unfortunately as I said the story dragged for me for the first half faced with a lot of character description and backstory for those I'd already spent five previous books getting to know. Not to mention the interjections of the omniscent narrator who I think is finally starting to grate on me. At this point, I'd rather hear the story in Myron's own words. Yet, once I hit the 50% mark and the mystery started to unwind, I enjoyed the roller coaster right to it's mudied and morally ambiguous ending.
Basically, I liked it enough to continue with the series.
Oh, and of course, as I started to read this, I realized I was completely inaccurate in my review of The Bat where I said I didn't read many mysteries featuring men. Afterall, there's this series, plus the Guido Brunetti series as well as the http://www.whatireallythink.net/andrea-camilleri-inspector-montalbano-series/ – so yep, plenty of male protaganists.