Sweet Potato Red Lentil Curry
My house smelled fabulous today as a pot of this Sweet Potato Red Lentil Curry simmered away in my crockpot. I saw this recipe in last month's issue of Cooking Light and had been looking forward to a crockpot day to make it.
Sweet Potato Red Lentil Curry – Simply Filling?
Upon first glance, I believed this would be an easy recipe to convert to simply filling. I figured I would leave out the sugar and substitute one cup of fat free milk and a quarter teaspoon of coconut extract for the lite coconut milk. Easy peasy.
What I didn't realize though is that tomato paste is not simply filling. Neither is red curry paste or ground tumeric. So with those three ingredients, the entire pot had 7 points. At eight servings, each would have one smart point on a Simply Filling Day. The next time I make this, I may substitute diced canned tomatoes for the tomato paste which would knock this down to zero points for a simply filling meal.
If counting Smart Points, this dish has six smart points, not including what you would use for the brown rice.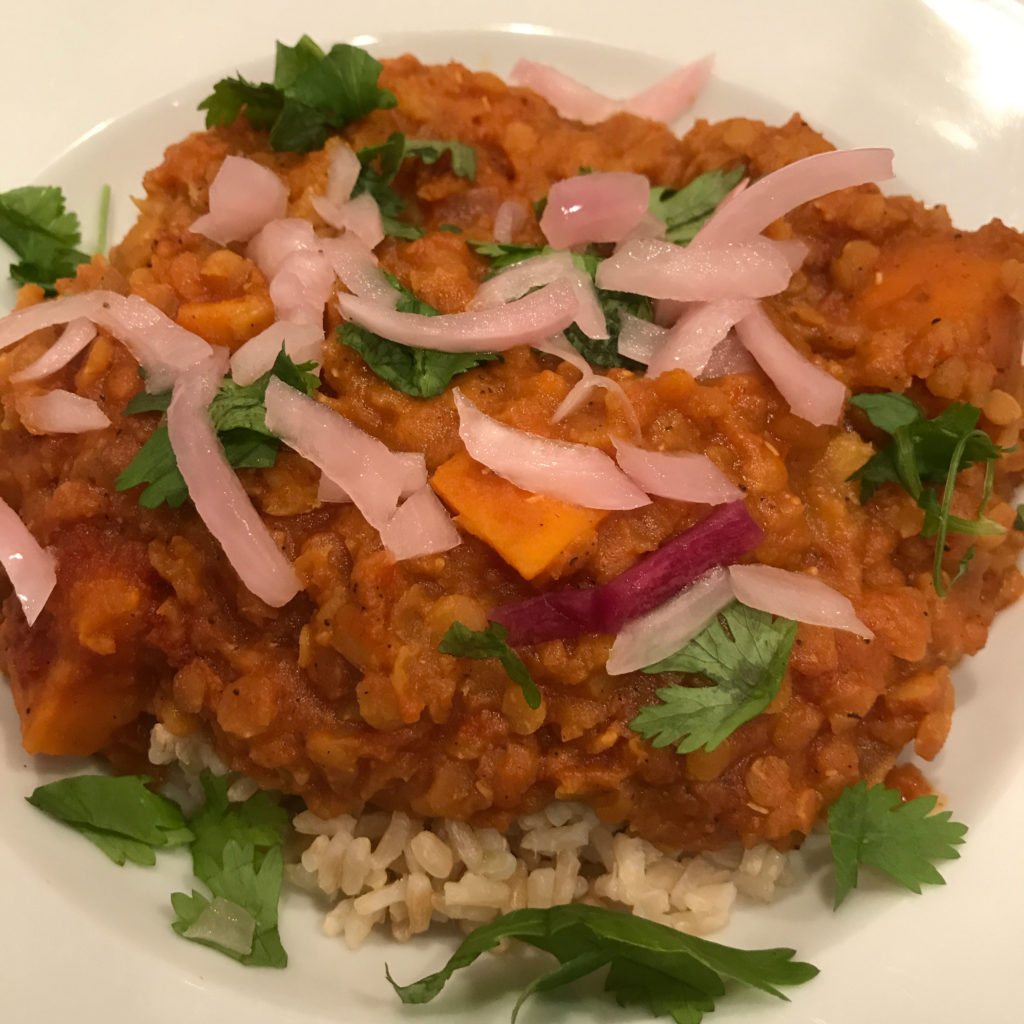 Ingredients
4 Cups sweet potatoes, cubed
2 cups dried red lentils
3 cups water
2 cups vegetable broth (honestly I used fat free chicken because I didn't have any vegetable broth)
3/4C finely chopped white onion
2T Thai Red Curry Paste (the original recipe called for 3 but I knocked it down to 2 for point sake. I may raise it to 3 next time when I replace the tomato paste).
2t garam masala
3/4t salt
2t fresh ginger, peeled and freshly grated
3 cloves of garlic minced
2t tumeric
1/2C tomato paste (again, going to try replacing this with some canned diced tomatoes)
1C fat free milk
1/4t coconut extract (may increase this to 1/2 or even 1 teaspoon next time)
Fresh cilantro for garnish
Directions
Throw everything into a slow cooker coated with non-stick cooking spray. Stir to combine. Cook on low for eight hours.
Now – here I only cooked mine for four hours. My crockpot runs high and I didn't want to overcook.
Also over on Cooking Light, they create this pickled onion topping using sugar. I had some pickled red onions already in my fridge (no sugar). So I didn't bother with this step, using my own. I also garnished mine with cilantro.
Serve this over brown rice.