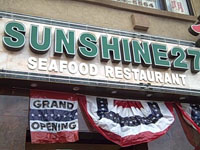 For Christmas this year, we included a new type of gift under the tree for the girls, a joint gift, a "trip." Basically, Chris and I found a decent rate at the Embassy Suites near Battery Park ($200 a night), and decided to take the girls into the city, the day after Christmas, and packaged it as a gift under the tree.
Since it was the girls' gift, we left it up to them, how they wanted to spend their day. At first they decided we would head up to midtown, walking along Fifth Avenue, to see the Christmas decorations, store windows, ending perhaps at Central Park for a carriage ride but as we approached the subway, they changed their minds and decided they wanted to do some shopping in Chinatown (okay wish we had known ahead, we could have just walked).
So, as it were, we hopped off the subway, after one stop, on Canal Street and proceeded to hit every chotchkey store on the south side of the street (not to mention a pit stop into Ricky's to try on some wigs). Eventually though, as we wandered down Mott street we realized it was 1:00, and we were hungry. In the mood for Dim Sum, and not finding any restaurants in our immediate vicinity that seemed to serve it or seemed inviting, we decided to head over to an old stand-by, HSF, on the Bowery.
Now I've been going to HSF since I was a kid, when my parents used to take me to their midtown location, on the east side, in the 30s. That location closed year ago, so we continued at the Chinatown location, though over the years, I've noticed the service degrade and the food become, well commonplace, like every filling tasted the same, and not much variety in choices, but we continued to go for lack of knowledge of something better.
So you can imagine my surprise when we showed up there and found HSF gone, and another restaurant in their place, Sunshine 27, located in the same location, at 46 Bowery. At first we weren't sure about entry, but the jam packed restaurant, complete with shoving crowds to get in, convinced us otherwise.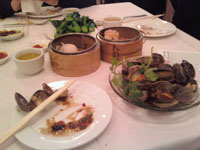 Now I'd swear some of the staff looked familiar, and the décor hasn't changed that much, but we were delighted to find, after waiting 15 minutes for a table, that the variety of choices has returned and the food tasted, well, pretty darn good. We ate to our fill and then some, really enjoying the clams in black bean sauce, several different tofu preparations, a bunch of different dumplings, some steamed green vegetables, spring rolls, egg rolls, and my favorite, baked pork buns, actually turning many more, unfamiliar dishes away (including some sticky rice which I still haven't decided upon liking or not).
The service was spotty, in that it took several requests to get water, and our teapot was only refilled after we finally received our bill, which came to $44 for the four of us and included a beer. Though, I wouldn't mind some alternative locations to try too, I'd return again, my faith a bit more restored in this Chinatown location for dim sum.