Spinach Pesto Pasta with Shrimp
I saw this recipe in the April 2017 issue of Cooking Light and marked it to make as it seemed like a good spring dish. And although it feels nothing like spring here today, I decided to make it for dinner tonight.
Now Cooking Light is great for recipes, especially if you're maintaining your weight but I find sometimes I need to tweek the recipes to help with Weight Watchers. Below is how I made it but feel free to check out the original recipe here: Spinach Pesto Pasta with Shrimp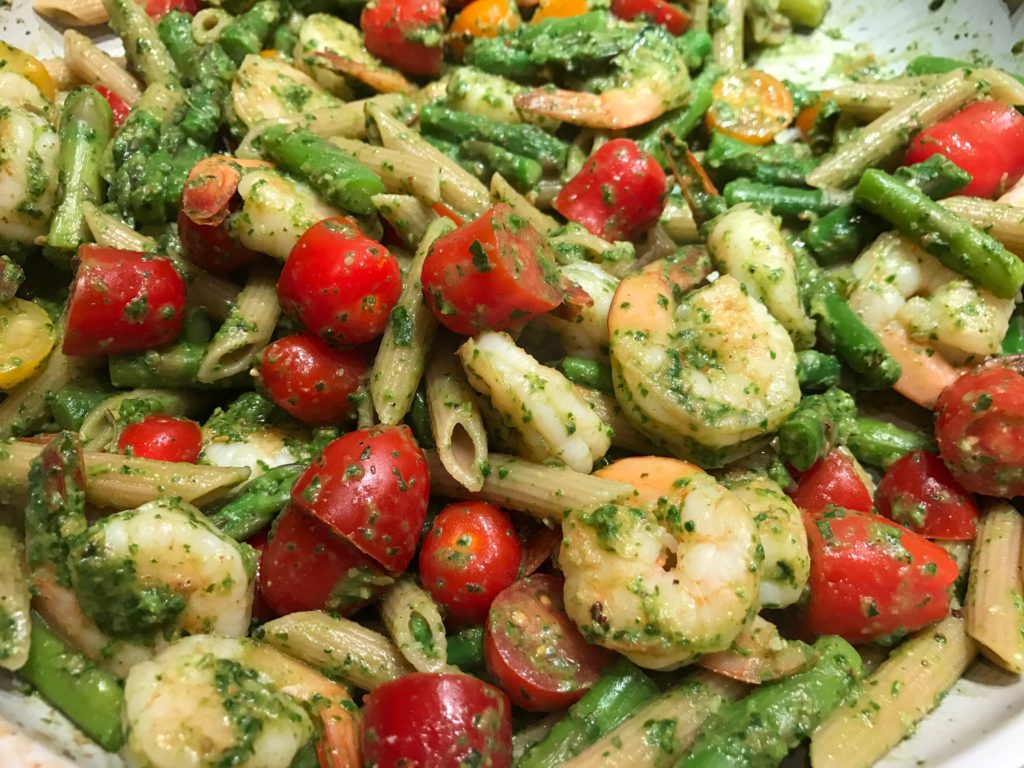 Ingredients
4 oz whole wheat penne rigate
1 pound asparagus, cut into 2-inch pieces
1t olive oil
1 pound large shrimp, peeled and deveined
1/4t cayenne pepper
1/4t freshly ground black pepper
1C halved multi-colored grape tomatoes
1/4t salt
6T Spinach Pesto (click to see recipe)


Directions
Cook pasta in boiling water, adding asparagus during last 5 minutes of cooking. Reserve 3/4C of cooking liquid before draining pasta and asparagus.
Heat 1 teaspoon oil in a large skillet (I use my greenpan so do it over medium heat). Sprinkle shrimp with red pepper and 1/4 teaspoon black pepper. Add shrimp to pan; cook 1 to 2 minutes on each side or until done. Remove shrimp from pan.
Add pasta, asparagus and reserved 3/4 cup cooking liquid to skillet; cook 1 minute. Stir in pesto, shrimp, grape tomatoes, and 1/4 teaspoon salt. Divide pasta mixture evenly among bowls.
Now at 2 servings this came in at 12 smart points but it can easily serve 3 at 8 smart points.