Slow Cooker Navy Bean Soup
Finishing up the week of Beanapalooza to celebrate Weight Watchers' Freestyle Program, I made Slow Cooker Navy Bean Soup. Basically I took the recipe from Budget Bytes, Slow Cooker White Bean Soup and tweaked it to be even more program friendly.
Converting Slow Cooker White Bean Soup to My Slow Cooker Navy Bean Soup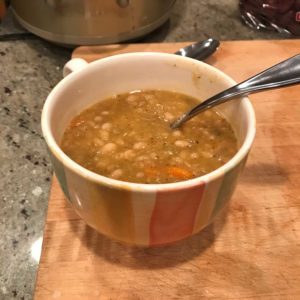 What appealed to me about the recipe, besides that it uses beans, was that you don't have to pre-cook the beans! Now I haven't broken out my new Instapot yet, so not pre-cooking beans sounds good to me! By the way she does have a note on her recipe about how you should not use cannellini beans in the recipe without boiling (due to some chemical in the bean), and says if you're not sure about your bean type, boil them. I was sure mine were navy beans so I didn't bother with the boil.
She also used water for her base in the soup. I had 1/2 a quart of fat free chicken broth in the fridge that I needed to use, so I went with a two cups broth, four cup water combination. When I make Slow Cooker Navy Bean Soup again, I may use some vegetable broth instead for a vegetarian option but I'm not sure I would use all water for flavor purposes.
Another change I made had to do with the spices. She used dried rosemary (1t) and dried thyme (1/2t). I couldn't find my dried rosemary, so opted to use some herbs de provence blend instead of those two. Also, she used smoked paprika, which I could see lending a nice smokey flavor to this, and will do that in the future, but I had some hot paprika from our trip to Hungary I want to use up, so I went with that.
Lastly, she threw two tablespoons of olive oil into the pot. I'm not sure why. I wanted to make this a zero point soup, so I skipped the olive oil. However, I do recommend, if you have the points, drizzling a teaspoon of really good fresh extra virgin olive oil on the finished product instead. I think that gives you a lot more bang for your buck in the flavor department.
Ingredients
4 cloves garlic, minced
1 medium onion, chopped
4 stalks celery, sliced
1/2lb carrots, thinly sliced
2C fat free chicken or vegetable broth
4C water
1lb dry navy beans
1 bay leaf
1.5t herbs de provence
1/2t paprika either smoked or hot
Fresh ground black pepper, if you're grinding it – like 15 turns
1-2t salt (basically to taste)
Directions
Rinse those beans and pick out any stones or anything that may look not quite bean like. Give them a rinse.
It doesn't get any easier than this, throw everything except the salt, into a 5qt or larger crock pot.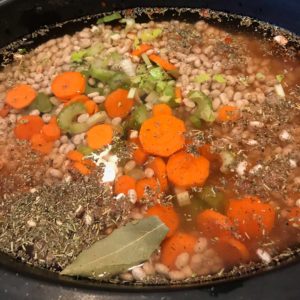 Stir.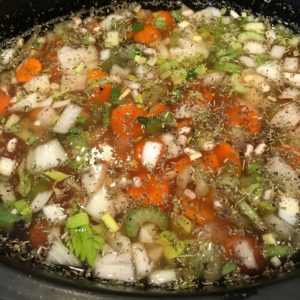 Put the lid on and cook on low for 8 hours, 4-5 hours on high.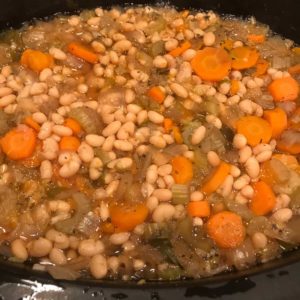 Pull out the bay leaf.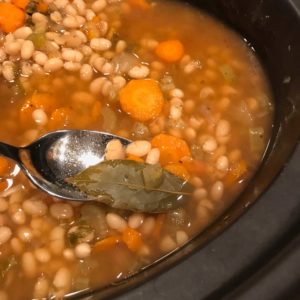 If you have an immersion blender, give it a bit of a blend to thicken the soup, otherwise mash some beans but leave some of the beans in tact.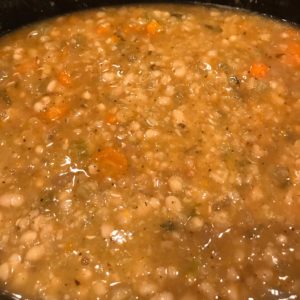 Stir in the salt, start with 1/2t and increase by 1/2 until desired degree of flavor. I didn't. I went right to two teaspoons and honestly, 1 or 1.5 would have been enough.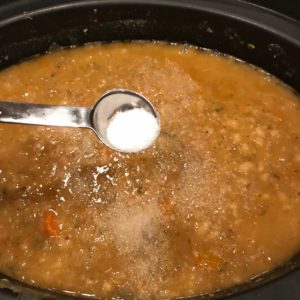 At this point, when you go to serve, you can drizzle each serving with a teaspoon (or more) of really good extra virgin olive oil.  That's it.
Thoughts – Slow Cooker Navy Bean Soup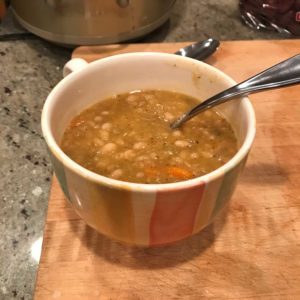 I will definitely make this again. It's just too easy not to do it. I also like that it has a different flavor profile than last week's black bean soup. It makes a decent amount (at least 8 cups – I really didn't pay attention), so if you don't want it for lunch all week, you can absolutely freeze the left overs. Without the oil, it's zero points on Freestyle. With the oil (allotting for your two teaspoons of healthy oil a day), it's Simply Filling. Either way, you can't go wrong!