Slow Cooker Kung Pao Chicken
Yes, I know, Slow Cooking seems the antithesis of Chinese cooking which is normally done in a wok, quickly, over high heat. But I had a good experience with Beef and Brocolli in the Slow Cooker so I thought I'd give this a try too. Glad I did.
I found the recipe over at The Recipe Critic, using her version of Skinny Kung Pao Chicken as a start and made a few tweaks. Basically I increased the veggies, decreased the oil and some other ingredients to reduce the Weight Watcher Smart Point Value, and substituted crushed red pepper flakes for the chilis as I didn't have any in the house.
It's a good recipe and one of the things I appreciate about it is the flexibility to make it your own. For example, I had a lot of peppers in the house, so I used them, she didn't use as many. Next time, I'll probably slice an onion and put it in too. Also she used a slurry (2T cornstarch and 2T water), adding it when she added the veggies but when I went to add the veggies, I thought my gravy cooked down enough and thickened so I didn't bother with the slurry. I used peanuts and she used cashews. Also, feel free to double the recipe ingredients if you want extra (remember though this will affect the Smart Point values). Really though, you can get the idea and play with it to your liking! Oh, and if you're interested, she also has a stove-top version over on her site.
Enjoy!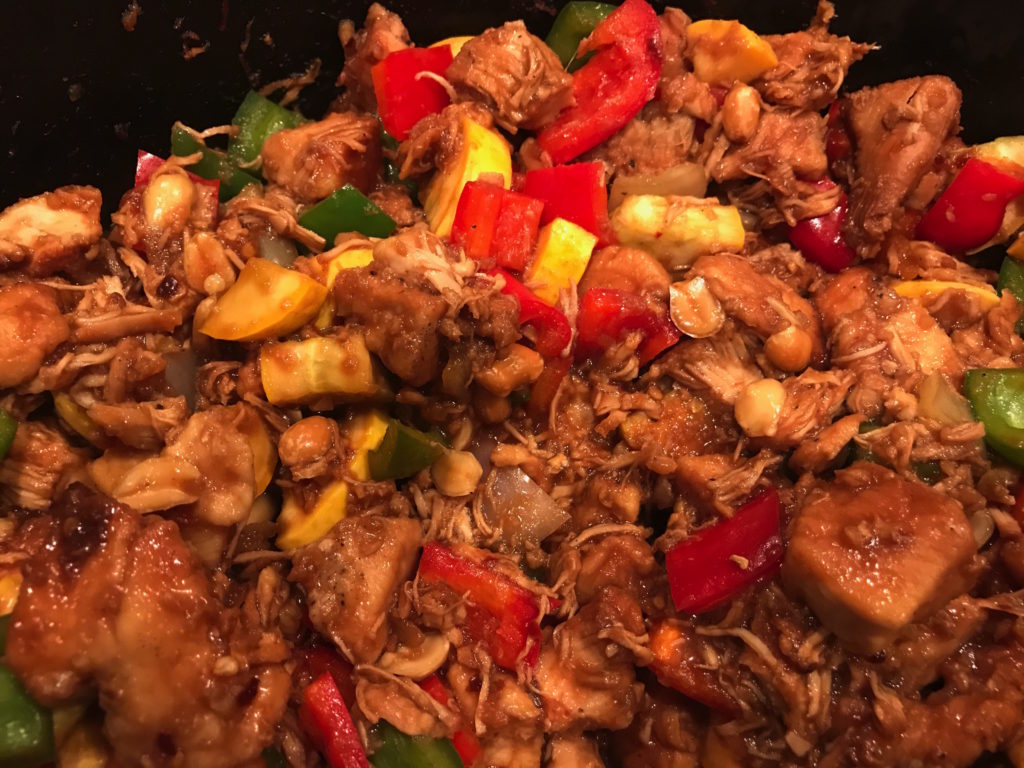 Ingredients
2 pounds boneless skinless chicken breast, cut in bite size pieces
1/3C cornstarch
1/4t salt
1/4t ground pepper
1t sesame oil
1/2C low sodium soy sauce
1/2C water
3T hoisin sauce
2t honey
1 – 1 1/2t crushed red pepper (I like a kick, reduce if you don't want it spicy)
3 cloves garlic, minced
1t grated garlic
1 red bell pepper, cut in bite-size pieces
1 green pepper, cut in bite-size pieces
1 purple pepper, cut in bite size pieces (only b/c I had one from my CSA)
1 zucchini or squash, cut in bite size pieces
48g dry roasted, unsalted peanuts or cashews
Scallions for garnish
Directions
Mix the chicken, cornstarch, salt and pepper in a zip loc bag until chicken is well coated. Warm a fy pan (I used my green pan which really lets me cut down on the amount of oil I use. She used 1T but I only need 1t), add the oil and brown the chicken about 2 – 3 minutes on each side. Put in crockpot.
Whisk together soy sauce, water, hoisin sauce, honey, crushed red pepper, garlic and ginger. Pour over chicken.  Cook on high 2.5 – 4 hours on low or 1.5 – 3 hours on high. My low setting runs a bit high so 2.5 hours on low was more than enough.  Add the veggies and nuts to the pot (if using the slurry add it here too) and cook on high for another 20-30 minutes.
Sprinkle some sliced scallions on for a garnish. (I didn't have any in the house so didn't but she did and I think it would be a nice addition).
That's it – at 6 servings, roughly 1C each (depending how many veggies you use), it's 6 Smart Points, at 4 servings 1.5C each, it's 9 Smart Points.