Slow Cooker Chicken Chili
Off the bat, the hardest part about making Slow Cooker Chicken Chili was figuring out how to fit the small bowl and blade into the larger bowl of my cuisinart.  Once that was done though, it's all down hill.
I was catching up on some random Cooking Light magazines I found scattered around the house (three more to go) and pinned this recipe from the October 2016 issue. Woke today to a surprising cool and rainy August day so decided to give Slow Cooker Chicken Chili a go. As I said, hardest part was the cuisinart (oh and finding hominy in my supermarket – FYI, it was by the Goya products, not the canned veggies), after that it was just a matter of putting everything in the crockpot and letting things simmer away.
Ingredients
3 15oz cans cannellini beans
1 25oz can hominey, drained and rinsed
3C fat free chicken broth
2C diced, peeled butternut squash (I'm embarrased to say I had one sitting on my counter since last year's CSA and finally used it!)
1C chopped onion (the recipe called for yellow onion, but I had a white onion from my CSA so went with that)
2 cloves garlic, shopped
2T ground cumin
1T chili powder
1/2t salt
1/8t cayenne pepper (I'm going to increase this next time as I like more of a kick; it wasn't in the original recipe)
a pinch of dried oregano – the original recipe used 2 sprigs fresh oregano but I just through this in
1 4-5oz can diced green chilis
1.25lbs boneless skinless chicken breasts (original recipe used thighs)
Other Ingredients I Didn't Use
The original recipe called for making some accoutrement using yogut, some set aside green chilies and such.  I was lazy and didn't but maybe I should have because I did find it to be missing a little zing.
1T green chilies reserved from can above
1/2C plain lowfat yogurt – use non-fat to keep it Simply Filling
6T fresh cilantro leaves, divided
2oz pre-shredded reduced fat cheddar – use non-fat to keep it Simply Filling
1/4C chopped green onions
1 jalepeno thinly sliced
They have you mix the yogurt, reserved chilis and 2T of cilantro in that mini-food processor and serve that on the side along with the other remaining ingredients.
Directions
Take 1 can of the kidney beans, drain and rinse and stick in the aforementioned food process (a small one) and puree. Put in 6qt. Drain and rinse the other beans and add those to slow cooker. Add remaining ingredients upto chicken to pot, combine. Lay breasts atop stuff in pot. Cover and turn to low.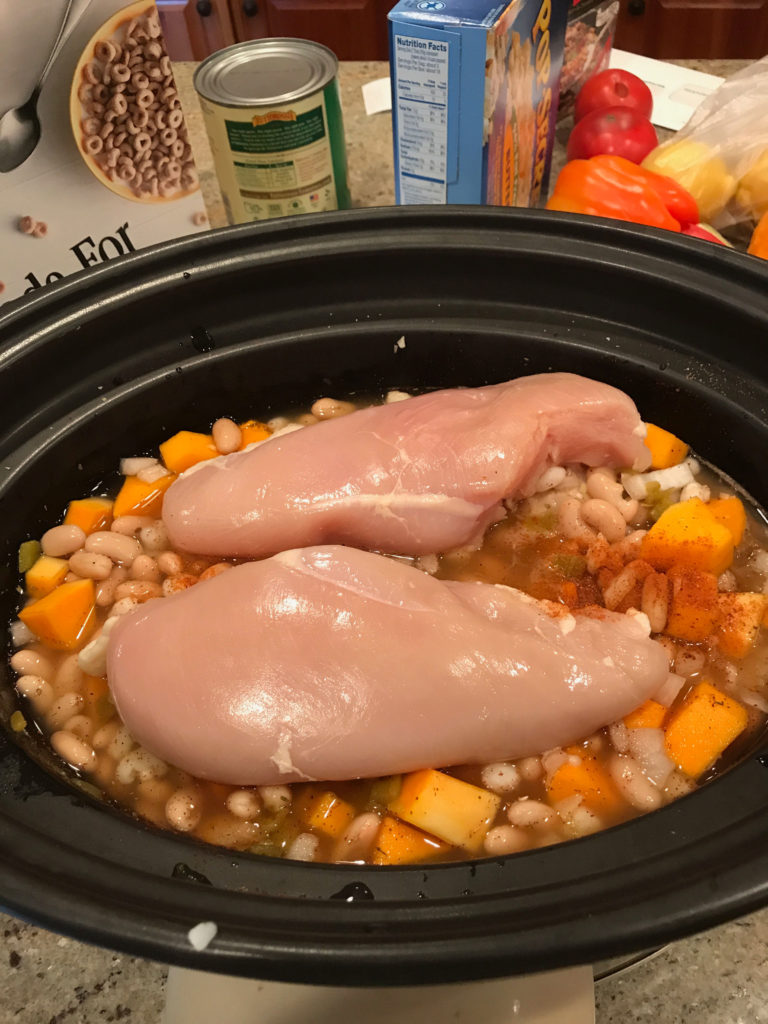 Now the original recipe called for 8 hours on low but my crockpot runs hot on low, so mine was ready after 4 hours. It was also very liquidy. So I took out the chicken, shredded it with two forks and while doing that, I turned the pot to high and left the lid off the pot until it thickened up a bit and then I returned the chicken to the pot to warm it.
The other thing I did when serving was made some brown rice and served this over that for an incredibly filling meal.  I'm going to make this again but may do the above side items. I will probably add some diced jalapeno to the slow cooker to at the beginning.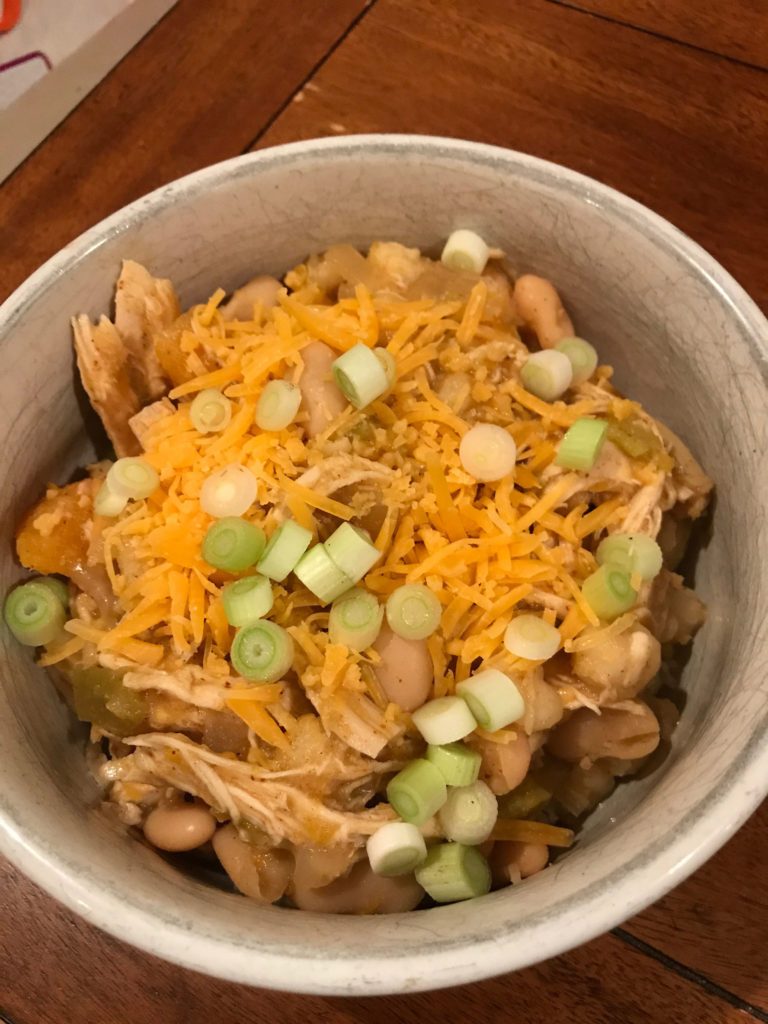 Slow Cooker Chicken Chili – Simply Filling or Not?
Now as far as Weight Watchers goes, Slow Cooker Chicken Chili is 0 points on simply filling for a serving but curiously enough, when I put the ingredients into the recipe builder, 2T ground cumin came up as 1 points, 1T chili powder came up as 1 point and the diced green chilis came in as 2 points (that's for the entire pot). So when I tracked it, it went in a 0 points as opposed to SF.  Either way, you decide for yourselves.
If you're tracking smart points, it's 7 smart points per serving and this makes 8 servings.