Secrets of a Charmed Life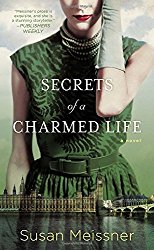 Secrets of a Charmed Life tells the story of two sisters during World War II and the London Blitz and also happened to be my book club's January selection. Like many historical fiction books written today we bounce a bit between present times and the past as our story unfolds. In this case, Isabel, on the occassion of her 93rd birthday, tells the story of her time just prior to and during the first year of the war, to history student Kendra. Through that telling, we learn the tale of the two sisters and what became of them.
At first the story really grabbed me, especially at the point where we leave the present and return to the past but by the end of Part I, I was no longer enjoying it. I think Emmy's story accompanied by all her 15-year-old angst and selfishness just grated me down. It was at that point I actually picked up another book, and would reward myself with a chapter of the new book, everytime I read a chapter of Charmed Life. However, about 1/2 way through Part II (maybe 55% into the book), I was once again captivated and didn't need to bribe myself to continue reading.  That said though, I found Part 3 and its change in format and storyteller, jarring and not nearly as enjoyable as the book until then. Yet, in the end, finishing about 5 minutes before book club was to start, with tears in my eyes, I have to admit I really did enjoy this book on a whole even though parts dragged for me and the last part was a bit different.
In actuality I'd probably rate it somewhere between I liked it (3 stars) and I really liked it (4 stars).