Rome – Vatican and St. Maria Della Concezione
We rise about eight this morning and head down to breakfast. Sammi has trouble rising, she's exhausted and still recovering from her cold/strep. I promise her this afternoon we'll return to the hotel after lunch, and she can rest.
Peter meets us in the lobby about eight forty-five, and joins us for breakfast as we wait for Steph and Al to rise and eat.
Before our tour of the Vatican, Peter takes us to two churches off my radar in order to see some Caravagio's and Rafael's. Peter's always is doing stuff like that. At first it bothered me, now I enjoy it. Being with him is always a surprise, so much so, that for our next trip (to Montalcino) we just told him to plan a day for us, completely at his discretion.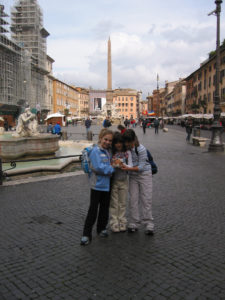 Our first stop is the French national church, San Luigi Dei Francesi (between the Pantheon and Piazza Navona). Peter points out the Caravaggio's and tells us the story of his life. Never having been a big fan of Caravaggio's work before this, I still love to hear the story and enjoy learning about the painting from someone who knows a bit something rather than reading it from my guide book.
After San Luigi, we walk to the Portuguese national church, Sant' Antonio dei Portoghese. My notes are completely sketchy here and I do apologize, but if memory serves, while this church is usually closed we did stumble upon a moment when we were able to enter and viewed some other Caravaggio.
After the church, Peter points out a jewelry store with some beautiful designs, unusual. Actually, they remind me of Etruscan designs and while we don't purchase anything both Rick and I consider it. Should have remembered the old adage for our travels, when you see something you like, buy it then because you may not see it again.
We catch two taxies and head over to Vatican museum. Funny same starting and ending point and one was six euro and one seven euro, oh well. Still a deal, to keep the kids' feet intact.
No line this mid-Friday morning. Cost us 10€ for the adults and seven euro for the kids. We're on limited time not because we only hired Peter for a half-day tour but because we have two ten year-olds and a seven year-old in tow.
Peter continues his theme and we visit some specific paintings by Caravaggio and Rafael through different points in their careers. We also spend some time admiring the statues of Apollo and some guy from Troy and his two sons, killed by a serpent sent by Athena. Hey! I just googled this and found Laocoon! So is this the statue that such a debate took place over on the Slowtalk message board? I need to go read that thread again. Okay, so the sources that I found actually lay the blame for the deaths on Poseiden as opposed to Athena.
We make our way through the Tapestry room where Peter points out Jesus with the eyes that follow you. Totally freaks Sammi out.
Next the Map Room, did I know that the top is south in these maps?
Finally, ta da! The Sistine Chapel and surprisingly the line is not so bad. Of course, once you get inside, you could be molested just walking from one end of the chapel to the other. Actually, it's like late night at Sigma Chi, if you lift your feet off the floor, you won't fall.
Aside: I'm trying to read my notes and there's a comment that says, "Donkey ear guy and popes' sec." Also something about Michaelangelo's face in skin. Okay, you can see a face in the skin being held by the guy at Jesus's feet; I'm thinking Michaelangelo painted his own face there. The donkey ear guy, I'm thinking is Minos, according to this site: http://www.wga.hu/tours/sistina/index_d.html.
Peter gives us a ton of more information but honestly, it is too crowded to write, and I know I don't remember. If ever I win the mega-millions, I'm going to get one those private viewings of the chapel and take my sweet time.
As we're leaving, I mention to Peter the rumor I heard about the two different exits from the chapel. With your back to the Last Judgement, there's a door on your left that leads back into the museum, through which most individuals leave. On your right, another door used less frequently by large groups. We attach ourselves to a group of Japanese tourists and voila, we emerge right in St. Peter's Cathedral, saving the long walk back through the museum, and around the walls of the Vatican.
Peter says ciao to catch his train back to Montepulciano (well, probably Chiusi), and we head into the Cathedral with our new guides, Becky and Allison. Becky raises her umbrella and herds us around as Allison begins her monologue. First stop, the Pieta, where Allison informs us, "Here's some dead guy being held by that lady." After obligatory oohs and ahs, we head across the cathedral, where we find "The first sumo wrestler." (AKA Jesus in his loincloth). Next stop, a mathematical equation, "P plus X" (i.e., The tomb of Pope Pius X). We continue on like this until one of our guides points out a mosaic and says, "Hey, that's the same painting Peter just showed us in the museum by that Raf guy." Ah, yes, we're so proud.
After spending some time in the Cathedral, we head into the Piazza where I demonstrate for everyone the column trick, pretty cool. By now though, we're all getting tired and hungry and decide to head over to Taverna de Gracchi for our lunch (and first Buon Ricordo plate).
We walk over to Via del Grachi and head back towards the Tiber. We walk and walk and walk and well, you get the picture. Finally I stop and ask a man where's the restaurant, and while he gives us one answer another passerby disagrees. They argue but our original man says to keep going and we do.
So we walk and walk and walk, and finally decide, two more blocks or where stopping in any old place. Luckily, it's on the next block.
Gracchi is much bigger than most of the restaurants we've frequented here, with small intimate tables up front and larger rows of tables in the back, where we sit. It's empty when we arrive but fills up shortly. I'm thinking this place probably serves many local business lunches and wonder what kind of dinner business they do?
On our way to the back we pass a colorful display of fresh fruit and a varied selection of fresh fish. We're presented with our menus, but Steph and I already know what we're getting; we're here for plates!
The Buon Ricordo specialty is homemade spaghetti-like pasta with zucchini, zucchini flowers and tiny shrimp. Chris orders amatriciana, Becky clams, Sammi and Al spaghetti, but Rick, Steph and I all get the specialty. All that accompanied by a bottle of Avignonese Nobile, coca colas, and followed by cappuccino and espresso came to 175 euro. I think it's pricier than many other restaurants but the foods delicious (Aside, Chris still talks about their amatriciana), and most importantly, we have our first plates!
After a problem with our credit card, yeah they forgot we told them we'd be in Italy, the restaurant calls two taxis for us. Steph, Rick and Al head towards the Coliseum, while we return to the Del Senato for Sammi's promised rest. I have to say it again; given her illness of a week ago she's been a real trooper on this trip.
We offer the girls some gelato before we return to our room for our rest but neither one seems interested, go figure. After reading and some faux snoozing, Becky and I head downstairs to the lounge area while Sammi and Chris do some real snoozing. We talk, read the IHT and grow a bit restless, so we decide to head over to Santa Maria Della Concezione, to see the Capuchin Crypts.
Sammi and Chris opt to skip it, so Becky and I head out on our own. The rain just having ended, we can't find a cab around. We stop in a Tabacheria on our way to Corso and purchase two bus tickets, deciding to give that a go. Just as we get to the stop, the 175 pulls away. Becky exclaims, "That darn bus!"
We wait, and wait and wait some more as many other buses come by but not the 175. After checking the posts, I notice that another bus stops in the area (maybe it was the 95), so we jump on that one instead. We get off at Piazza Barbarini and hoof it the block to the church.
The entrance to the crypts is upstairs and to the right, halfway up to the church. Somehow I thought the crypts would be underground but I think I read somewhere, that at some point in time the entrance was street level (could be wrong about that though). The monk sitting at the entranceway asks for a donation. A ten euro note already sits in the basket and that's it. I'm thinking ten euro is probably too much for the two of us and guiltily give him six, though I'm thinking that's probably too much too.
The crypts are cool and macabre and a bit gross. Again, somehow I pictured a lengthy display rather than the five or six rooms it ends up being. We're out of there in fifteen minutes, after reading what my Rome in Detail says about the bones and their creators.
We cross the street to catch another bus back to the Del Corso; it pulls in just as we do and Becky says it stops at Del Corso, so we hop on though I'm concerned it stops at Del Corso up near the Piazza del Popolo and not the other end where we need to get off. Eventually, I ask a woman and she says next stop, just as we pass San Silvestro and things begin to loom familiar to me. We're back at the hotel within an hour and fifteen minutes from our departure.
During our absence, Chris and Sammi ventured out for gelato, so now Becky must have some, another round of Canella for her. Later it's showers then drinks downstairs where Dotty and Chris, the mother and daughter from the previous night, join us. After nibbling on Michele's assortment of picky foods we say our good-bye's as we're off to Tuscany in the morning and they're returning to California the day after.
For tonight's dinner we return to Abruzzi. They welcome us back jovially (I think that's Chris's favorite part of returning to the same restaurant over and over, well any same business establishment over and over, he feels like it's his "Cheers.")
We're a noisy group as we enter and a lone woman sitting at the next table gives Stephanie a standard eye-roll. Stephanie responds with a wave of her hand under her nose indicating the stink of smoke from the woman's cigarette; see we all have little annoying habits.
Tonight for dinner I start with prosciutto and melon; it's a large order with plenty of meat and a quarter of a melon. Becky shares the meat with me and Sammi the melon. I skip the primi tonight and settle on the Osso Bucco with mashed potatoes. The meat's not as tender as I like but it still tastes delicious. Chris has his amatriciana again. Chris is nothing if not consistent, followed by veal with porcini. Becky has a big plate of clams solamente but she's still hungry so follows with a plate of pasta. Sammi has pasta and three winning games of hangman against Rick. Allison settles on the chicken because she's already sick of pasta. Rick has the Veal Abruzzi, which he says is good and Steph, like Allison has the Roast Chicken. Both Rick and Steph share a plate of spinaci for a contorni which they say is good but surprisingly at room temperature. We all skip dessert but Rick, Steph and Chris enjoy some of the complimentary sambucca after dinner. Tonight's meal for the seven of us came to a whopping 105€ – again, not too bad.
After dinner, it's gelato for everyone at the little shop next to the Del Senato. Wish I remembered to get its name.