Roasted Red Pepper Tomato Soup
Well, the CSA is pretty much over and I had an abundance of tomatoes left (many that were green and ripened on my counter). I didn't want them to go bad but what to do? You got it, tomato soup!
Choosing a Roasted Tomato Soup Recipe
I climbed on Pinterest a few days ago to begin my search. No surprises – there are a plethora of recipes for tomato soup. Most of them tomato basil centric but I wasn't in the mood for that. I also knew I wanted to roast my tomatoes. So a different search, Roasted Tomato Soup. Still with the basil, and plenty that seemed fattening. Then, I found this recipe Healing Roasted Tomato and Red Pepper Soup.
I liked that it didn't require basil. I also love the flavor combinations of roasted pepper and tomato. So I decided to make a roasted red pepper tomato soup.
Tweaking for Weight Watchers
The only thing that bothered me about the recipe was the amount of oil. I know under 3 tablespoons doesn't really seem bad but I want this recipe to be simply filling. Simply filling allows you to have two teaspoons a day of healthy oil. So, I like to keep my recipe amounts to 1 teaspoon per serving or less. I only used 1 tablespoon and I think the end product is still delicious.
Other Tweaks
She specified a white onion in her recipe. I didn't have any in my house, so I used a red onion. Try to not get hung up on issues like that. If you don't have the exact ingredient, often there are easy substitutes.  I also wanted to use up all my tomatoes, so I used 6 decent medium-size tomatoes and two smaller. None of them were grape, cherry or roma tomatoes. Just random tomatoes from my CSA. Lastly, I had 3 red peppers and used all of them.
She peeled her garlic, drizzled it with oil and wrapped it in foil for roasting. I didn't bother. Instead I put the whole cloves sprinkled on the tray and tossed them right in with the tomatoes and onions. After roasting, I peeled the garlic.
She gives two methods for roasting your red peppers, stove top with a gas burner and broiler in the oven. I did the former. But again, here's a link to her recipe in case you want to read about the broiler recipe.
Lastly, because my tomatoes were decent size, I increased the roasting time to twenty five minutes.
Results
It's multi-step but nothing daunting. The house smells wonderful while the veggies are roasting and though I haven't done it yet, I bet it freezes well. As I mentioned, this qualifies as Simply Filling.  But if you're tracking points, it's only 1 point for a serving, 4 servings of 1.5 cups in the batch.
I'm missing the obligatory tomato soup with grilled cheese picture but I'll come back later and update it. Never mind – see I had the soup for lunch the next day and added the photo.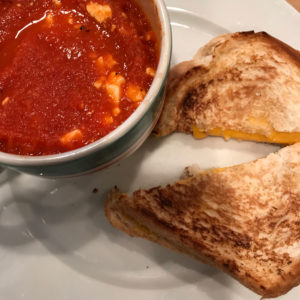 Roasted Red Pepper Tomato Soup Ingredients
6-8 decent size vine ripened tomatoes (next time I'll weigh them), quartered
3 red bell peppers (you can use orange or yellow if you like, just not green)
1 medium size red onion, sliced
6-7 cloves of garlic, unpeeled
1T olive oil
2t red wine vinegar
salt, to taste
crushed red pepper, to taste
Roasted Red Pepper Tomato Soup Directions
While oven preheats to 400 degrees, quarter the tomatoes, slice the onions and place with the garlic on a large jelly roll pan or two smaller ones, so it's a single layer. Drizzle with the oil, sprinkle liberally with salt and toss. Roast for 20-25 minutes, turning halfway through so tomatoes are soft and release their juices.
While tomatoes roast, place peppers on open flame of gas range. Cook each side for 2-3 minutes, until charred, turning with tongs. DO NOT LEAVE PEPPERS UNATTENDED. You may see sparks or bits may catch a little fire – that's normal. Once well blackened, put in a large bowl and cover with saran wrap. Let sit for 5 minutes to steam. This loosens the skin. Using a paper towel, peal the peppers. By the way, that paper towel trick she mentioned, is the bomb!
Slice peppers, removing stem/seeds and set aside.
Let tomatoes cool for a few minutes. Peel the garlic. Place tomato mixture, peppers, red wine vinegar and crushed red pepper (if using) in a blender. Do in batches if necessary so blender is no more than half-way full. Blend until smooth.  Adjust the seasoning if you like and serve.
Mine wasn't hot enough when I finished this so it needed to be rewarmed a bit. Just be aware.