Puglia – Off to the Beach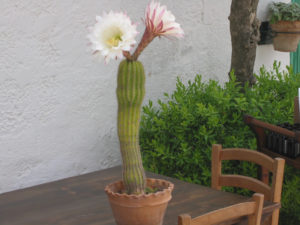 We arrive for breakfast around 9ish served in the same room in which we had our scrumptious feast last night. This morning, the tables are set and places assigned again; you find yours by looking for your place card. One area of the room is set aside for the buffet. It contains an assortment of home-baked cookies, cakes, breads, cereal, yogurt, fruit, juice, milk, meats, cheeses and soft-boiled eggs. On each table a tray sits containing different homemade jams, honey and sugar for coffee or tea.
We find our table, order some cappuccino and dig in. Of course everything's delicious – my favorite are the round cookies with a lemon filling; Chris's are the coconut crescents. I also enjoy some bread with the different jams atop.
After breakfast we talk to one of the girls who works at Il Frantoio and decide to keep today simple and go to the beach. She provides us with easy directions, and a not-to-scale map to two different locations (a rocky beach and a sandy beach). She also gives us two beach towels and a ticket we can present to the beach operators good for two chairs and an umbrella. At the same time, we have her set up reservations for us for dinner at Cattedrale and also arrange for a taxi since Chris would rather not drive into Ostuni again.
The ride to the beach is easy, maybe ten minutes to Lido Bizzaro, the sandy beach open year-round. We pull our car into one of the spots covered by a canopy (a nifty trick which I wish they'd learn at the Jersey shore). We present our ticket to the man in the office and follow a younger (and much cuter) man to the beach. He sets up our two lounge chairs (we don't opt for an umbrella) in a spot we select, Chris shtoops him two euro and we plop down.
I'm content to sit and vegetate, read, and watch the cute guy set up other people's chairs but Chris gets antsy and goes for a walk. Chris returns and tells me of a man up a few beaches catching octopus and beating them on a brick wall that runs along a stream emptying into the sea. I seem to remember seeing some travel show that demonstrates this but can't remember why (I still can't).
Eventually, it's my turn to get antsy, so I head for a walk and after passing the octopus beater, make it all the way to Torre Canne, past the Hotel Levanto (another consideration for our stay) and realize I made the better choice. The water's not tepid but refreshing and if it were a bit hotter, I'd go for a swim.
I notice the beaches are a bit dirty and need some sprucing before the season starts. Probably, no different than the beaches you find along the Jersey shore. I also notice I'm one of two women that I see this day wearing a one piece (actually, I'm in a tankini). All the others, body warranting it or not, wear bikinis. I admire that.
When I return I'm hungry but Chris doesn't feel like dining (white table clothes and all) at the restaurant along the beach so we opt to share a panino and two beers (six euro) from the snack shack instead.
Not long after lunch, the clouds roll in so we decide to head back to Il Frantoio. Once there, we quickly change and decide to stroll around Ostuni since the threatened rain never appears. We find parking easily in the new city at the bottom of stairs that lead to Porta Nuovo.
Most stores are closed for either Sunday or siesta, which I'm not sure. Some stores, geared towards tourists do remain open so we do a bit of window-shopping but don't purchase anything. We find it funny how things look familiar now after being lost throughout the city yesterday.
We find Cattedrale and feel comfortable with our ability to navigate the windy streets of the old city. Finally, we snake down to Piazza Liberta, purchase a gelato from one of the many gelateria that line the piazza and roam around an arts and crafts festival taking place in and around the area.
Finally, we return to Il Frantoio, to shower and dress before dinner. Vicenzo, the taxi guy won't be picking us up until 8:30 so we have time to enjoy another round of drinks (white wine) and some snacks in the courtyard before we depart. I'm wondering how much they're going to charge us for our little cocktail hour but don't ask.
At 8:30 Vicenzo arrives and drives us back to Ostuni. Few views compare to La Citta Bianca lit at night; makes me wish I had a tripod for my camera so I could do the image a bit of justice. Vicenzo begins to wind us through the old city towards Cattedrale but it's just packed; wall to wall people with cars and scooters trying to navigate in between. We tell him we know where the restaurant is, because hearing Vicenzo's earlier phone conversation, we know he's attending a movie with a friend. We arrange to meet at 11:30 at the Tabacchi, he pointed out to us earlier, near the piazza Liberta.
We climb up through the crowds, past the Cathedral and into Cattedrale pretty much on schedule for our 9:00 reservation. It's not very crowded and we're seated in the back room. It seemed more crowded earlier when we strolled by, filled with people enjoying Sunday lunch.
We ask our server to select a wine for us; Chris uses his best Italian to describe the type he would like and finally settles with, which is your favorite? He brings us two bottles he prefers and we end up selecting the Castello Monaci – Artas Primitivo 2001 for 24€. I like that he tells us the prices of each wine he presents (the other was 18 € and the house red is 12€). I also have to tell you, we're very impressed with these southern reds. This is the second night in a row that we enjoy two "big" reds from the south.
We start with the House Antipasti for 10€ a person. It's not long before we're bombarded with a bunch of dishes among them:
Zucchini soufflé
Phylo with artichoke
Stuffed Zucchini flowers
Bacala mousse on bruschetta
Little fried vegetables
Some other type of fried vegie
Marinated local mushrooms
Burata with local ham
Fresh Ricotta with almonds
It's delicious and really could have been enough for a light meal. When our next course arrives, I'm almost filled but find room for my Orecchiette with rape and breadcrumbs, yummy. Chris enjoys baby pork with local mushrooms but can't help picking at my plate too. For dessert, I opt for some slices of fresh melon, which has to be some of the softest, juiciest melon I've ever had and Chris enjoys a Ricotta Torte. Dinner comes to 82€ and we enjoy every bit of it.
After dinner we stroll about town again along with hundreds of others enjoying a warm spring evening; I wonder though, don't these people have to get up for work in the morning? Eventually we meander back to the piazza and sit on some steps across from the Tabacchi waiting for Vicenzo. We watch as people stroll by but more as they drive by. I get the distinct impression that all these teen-agers and young adults are cruising, like we used to see in St. Louis near the local custard stand or in old movies from the fifties. We begin to count how many times certain cars drive by; it's like a complicated ballet as they navigate through the streets filled with people.
It doesn't feel like a long though before Vicenzo joins the crowd to whisk us home. He charges us 25€ for our roundtrip and while worth it both Chris and I agree now that we know how to navigate to "our lot" we'll drive in ourselves in the future.
When we arrive back at Il Frantoio, the night watchman greets us as we walk through the gate, carrying a silver tray with two digestivo's on top. I can't remember which ones we enjoy that evening but it's a wonderful surprise before we head off to bed.