Puglia – Martina Franca and Alborabello
The sirocco blows almost through the night making sleeping difficult. It still blows early in the morning when I rise. Chris sleeps in, so I sit in the courtyard and write and talk with our Swiss friends (by the way, I call them this because we never did get their names, another regret of this trip). Anyway, I thank them for recommending Torre Guaceto to us and they tell me how they went to Lecce yesterday but weren't overly impressed, which later convinces Chris that we should skip Lecce. (Of course, skipping Lecce becomes another regret later on).
We have breakfast with an Australian couple who arrived the night before, Barbara and Graham, a very sweet couple, visiting their son and daughter in-law in Milan and then traveling throughout Italy on their own.
After breakfast, we decide since it's a bit cloudy to break our rule against two big meals a day and head to Martina Franca and Alborabello today. We check our Southern Italy map and spy what appears to be possible route over the mountains to the Valle d'Itria by way of Montalbano and Chris wants to try to find it.
We drive up and down Montalbano and other than finding a road that heads straight for the mountains but eventually turns to dirt, we find no such route. We end up returning to Ostuni, and pick up our route by following signs for Cisternina and using the dot-to-dot method that serves us so well in Tuscany. From Cisternina we follow signs to Martina Franca, and it's easy going.
L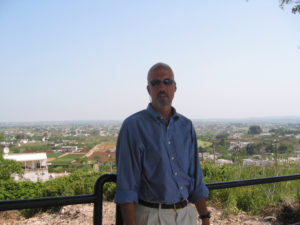 ike every other city/town I've come across in Italy (except Montalcino and Pienza), Martina Franca is much bigger than I expect from what I've read. As we arrive into the town, we pull over and read our Blue Book entry and based upon the sights it recommends we decide to get closer to the old walled city.
Uh oh, it's market day. How did I miss that in my planning? Well, forget the sights, there's a market! Chris can see my eyes glaze over and the little spittle of drool form in the corner of my mouth. I love open air markets, Italian, American, doesn't matter. Of course, with market day comes the impossibility of finding parking and the distinct possibility of winding up on some cobblestone streets, again, a Chris no-no.
We end up driving through most of the city but find nothing until we manage to navigate back towards the road on which we first entered, we park, hopefully legally, along this road and hike up into town.
As we walk, I trust my sense of direction and my ability to follow old Italian women carrying shopping bags. It's kind of like hiking, looking for markers, if they're coming towards you, travel up the road from which they came, if they're walking away, with empty bags, follow them; with full bags, don't follow – it means they've already done their shopping and are returning home.
As we get close to the market, I believe we're in some sort of major square, but without any city maps I'm at a total loss, we spy another TIM store and I have my passport! Unfortunately, many people crowd the store, so we decide to stop on our way out. Of course, once where out of eyeshot of the store, Chris comments, good luck finding that again. Thanks.
The market contains stall upon stall of clothing, household items, linens, drapes, tablecloths, even seedlings and seeds. Finally, near the end we spy the food. Before that though, I stop and purchase two shirts for Becky and Sammi asking a young Italian teen, about the size of Becky if I could hold up a shirt to her to see if it fits (she's about the same height). Once I explain it's for my daughter, she smiles and agrees as I confirm the size. Hey for a three euro shirt, you can live with a little embarrassment.
We stroll through the market and purchase some pistachios, some oranges and ogle over the other produce, nuts and olives. I don't buy any though because we still have a few more days before we arrive at our apartment in Montalcino.
We make our way back through the market and surprise, surprise, I find the TIM store again, only this time it's empty. Again, Chris, can't wait to see me handle this situation but within five minutes, I've explained what we need to the girl inside, she's entered my information into the computer and I've loaded more time on my phone, so there! I think if I were to purchase a phone from Cellular Abroad now, I'd ask them to explain how they handle registering my information with TIM, so we wouldn't have this problem again (we'd purchased our phone before Italy required this registration process).
We head back to the car because we want to see Alborabello today too, but I think I could have easily spent the better part of a day and lunch at Martina Franca and have been happy. The drive to Alborabello is easy and beautiful; the landscape on this side of the hills, away from the ocean, is slightly reminiscent of Tuscany – except dotted by trulli houses.
As we enter Alberobello, we spot two parking lots on our right, neither full. We pull into one but aren't sure how to pay. Chris heads off to one of the tourist shops that line the street to see if he can gleam something while I ask a woman returning to her car, parked next to ours. At about the same time we learn that the chotchkey shops with a blue "P" sign outside sell scratch-off cards you use for parking. You scratch off the year, month, day and hour of arrival and put the card in your windshield.
Once our parking payment is taken care of, and we retrieve more cash from an ATM machine across from the lot, we head up into the Trulli zone. We stop in one store along the way; they're all pretty similar and a bit cheesy. Within the one we stop at, we purchase two tacky trulli houses that have a sparkly coating, which change color according to the humidity (i.e., weather). The girls bought these when we were in Pisa in 2002, so now they can have a trulli to go along with their towers. The owner lets us try two of the local liquors, one that looks like coconut milk but tastes good, sweet and almost floral, and one that's melon but reminds me of cough syrup. Since we like the first, we decide we'll stop on our return to purchase some.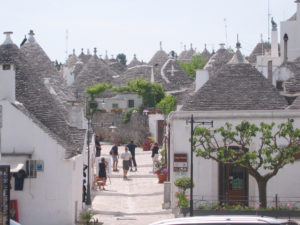 As we check out the trulli and explore I'm reminded of something I believe Terry's wife from Saturday night said. The trulli remind her of hobbit houses. Between that description which I like, and staying just outside la citta bianca (the white city), I am willing to lay odds that Tolkien visited Italy before writing the Lord of the Rings trilogy and possibly The Hobbit.
We keep an eye out for Il Poeta Contadina (I had images of us eating in a trulli house for lunch) but do not find it or a sign pointing the way. We stop in the trulli church but pass on the museum because it's getting close to our lunch reservation, and we still have no idea where the restaurant sits. I remember seeing a sign for it as we pulled into Alberobello, so we head back down, wanting to stop in that store to purchase some of the liquor. Bummer, it's closed.
Alberobello is kind of cheesy and I wish they somehow managed to keep some of the trulli in tact as they were used in the past (maybe they do at the museum) but it doesn't in any way replace Pisa as tackiest tourist spot on Earth. Besides, I respect them for still closing for siesta.
We find the sign and boy do I feel like an idiot. It doesn't point in the direction of the restaurant; it points to the restaurant! Right there across the street (and on the road leading into Alberobello), sits Poeta Contadina. Okay, mission accomplished easily, we head across the street to some steps where we sit and call the girls before heading for lunch.
I feel better after finally having a lengthy conversation with Becky and Sammi but am not looking forward to lunch as much as I'd hoped; fears of Monday's sold out plates still haunt me (BTW, I just checked the Buon Ricordo website last night and they have since removed Picini as a member). We head inside and are greeted immediately by the tuxedo-clad staff; two other couples sit in the cavernous room but no one else. Again, large restaurant small lunch business and I wonder what dinner is like.
We're seated in the back of the room, not far from the other couples and presented with menus. They start us with an aperitif, very refreshing and an amuse bouche, a zucchini soufflé cut into small squares, tiny pieces of toast topped with smoked salmon and foccacia bread with roasted veggies atop.
We order the house red and while Chris makes a pit stop, they present it and decant it; you know you're in trouble when the house wine is "decantable." I like it, a primitivo cabernet blend, interesting and smooth and later we find out costs 30€. Another regret, we forgot to write down the name of this wine. Chris enjoys the wine so much, he tells me while we're eating, "You have six things to remember: first gear, second gear…" Yeah right, as if there's any chance I'm driving Claudio home. With the wine we're each served a small plate of breads, a Pugliese bread, an olive roll, a sun-dried tomato roll and a red onion roll (all good for mopping up sauces).
Our server asks if we'd like menus in Italian or English. We opt for the Italian because we usually find it easier to understand than trying to figure out the English translation of dishes. I find it a bit disconcerting that my menu has no prices and when I think no one is looking, I make Chris switch with me. Luckily they have the Buon Ricordo specialty for 29€ but there's also an option to get both the old and new plate for 49€; I know it's against Grinisa's rules, but I figure I deserve the extra plate after Monday's fiasco.
We share an appetizer of tiny shrimp wrapped in phyllo cigars topped with crispy zucchini; very good reminds me of a spring roll or egg roll. For my main course I have the branzino with tomatoes and olives (the Buon Riccordo dish); I didn't expect much from what others had said about this dish but I am pleasantly surprised; it's tasty, light and delicious. Chris enjoys a lick your plate clean dish of Strascinate con funghi Cardoncelli (an egg pasta with local mushrooms); the pasta is shaped like round saucers and holds the sauce well. For dessert Chris orders a Gran Marnie soufflé, which isn't what he expects, it's more a chilled mousse than a soufflé and I have thin crisp pastry squares layered with apples and chantilly cream served on a plate drizzled with caramel sauce – absolutely wonderful. With caffe, the bill comes to 143€ but a third of that are my two plates!
After lunch, we try to find a trulli nomination charm for the girls but no one sells anything remotely close. After a few more pictures, we hit the road using the dot-to-dot method again by way of Locorotondo, Cisternina and Ostuni. Locorotondo looks like a good place to spend some time too – another trip.
We nap a bit, Chris runs, I shower and write and we wait for what we believe will be our last feast at Rosalba's kitchen. While we wait, we enjoy yet again the house aperitif, well for me, and a beer for Chris plus our usual snacks.
At 8:30, Armondo summons us once again and tonight we're sitting with the Australians we met at breakfast, Graham and Barbara as well as Veronica who runs a rental agency (www.vtcitaly.com) and splits her time between London and her home in Orvieto. Armondo met her at a convention in Milan and though she normally does not represent agritourismo's she agreed to come down and check out Il Frantoio.
We have another wonderful meal and notice that the weeknight feasts end a bit earlier around 10:30. Today's big group are also Americans but not sure from where and I also notice, that the bike group, who will be departing tomorrow enjoy an abbreviated form of our meal.
Anyway, tonight Rosalba prepares for us:
Antipasti:
Integrale con pepperoni (Whole wheat pasta with peppers)
Tortino di zucchine e menta (Little cake of zucchini and peppermint)
Fiorilli ripieni in pastella (Zucchini blossoms filled and fried)
Carciofi al cotto di vino e lampascioni a fiore con miele d'arancio (artichokes with sweet cooked wine, wild onions and orange honey).
Primi:
Zuppa di ceci con tria alla borragine e tria fritta (Soup of chick-peas with "tria", hand made pasta of wild borraage and fried "tria"
Secondi (served with "Tre Querce" Primitivo del Salento):
Agnello in forma con rucola e patata paglia (Lamb with rucola and potatoes like straw) – best damn lamb I've ever had!
Insalata Mista con nasturzi (Mixed salad with nasturtium)
Dolce:
Macedonia di frutta fresca (fresh fruit salad)
Quando il "Biancomangiare" è alle mandorle (this white puff of air flavored with almonds – yummy)
After dinner, we grab our water bottles from the table and it's off to bed.