Puglia – Biking and Best Lunch Ever!
I rise early this morning so I dress and head out in the courtyard to write while Chris snoozes. It looks like another lovely day, sunny and in the twenties. Eventually Chris rises and we head to breakfast, where I try a soft-boiled egg for the first time (delish) and we contemplate what to do.
I intentionally did not plan daily activities for us on this trip but rather had a list of possibilities and then, based upon our mood and the weather we would decide what we'd like to do. At first we thought about another beach day, however, after talking to our Swiss friends, something off our radar captures our attention. They spent yesterday, renting bikes and touring Torre Guaceto, a nature preserve along the coast about twenty to thirty minutes south of our location. In season, guided tours are provided but one of the girls from Il Frantoio calls (they also provide us with brochures) and finds out they have not started yet. She hasn't heard of the bike rentals but we decide to trust the instructions of our Swiss friends and after our breakfast, head out.
We drive down the 379 south until we reach the sign for Serranova. We drive up the hill following signs to the visitor's center where we park in a large lot behind the building. They have about two-dozen different bikes, not in fabulous shape but they will do. The first bike I select needs air in the front tire, so Chris returns and picks out another for me (a little too big but I do fine). Oh and we have to leave a copy of Chris's driver's license as collateral (they originally wanted a passport but we didn't have it with us, so they settle for the license).
Going towards the nature reserve is an easy ride, mostly downhill accept for the overpass over the 379 which scares me at first but I make it with no problem. We enter in "Zone C" and take the bikes along the beach where I find riding in the sand totally frustrating but once I get to the edge of the water, where the sand is firmer, I do not have a problem. Besides, the water splashing at my calves feels good in this heat.
We ride through "Zone C" and "Zone B" until we come upon a rocky outcrop, which blocks the path. We decide to sit and relax a bit; the water looks way too beautiful so we end up going for a swim too. Now I'm wishing we'd brought a picnic lunch and could spend the day.
Eventually, we head back the way we came and discover some paths that run through the woods and brush above the beach, so we check all those out. We find these strange rocks in the ground that look foundations for houses at one time but we don't know. Makes me wish the tours were running. We never do figure out how to get "Zone A" but after a couple of hours decide to return.
Chris lost his chain on the trails once and I end up losing mine on the return. Plus, apparently, my leg must have brushed a bit against the chain while I rode, because as I fix my chain, I notice I'm covered in thick black grease.
Our ride back to Serranova is a bit more difficult, three kilometers against the wind and uphill. I'm proud to say I make it the entire way without stopping to walk my bike.
When we return to the Visitor Center, they let us use the bathroom to clean up. I'm a bit sweaty and my face is beat read but what a great way to spend the morning!
The rates for the bike rental are 2.50€ for the first hour and 1.50€ for every additional, I think we end up paying about seven euro in total. If you're interested in more information, you can reach the Visitor Center via e-mail at info@riservaditorreguaceto.it or via phone at 0831.989885.
Well, thank god we have the water bottles in the car. We each down a bunch of water and then decide to drive to Savelletri for lunch. I'd read about the Museo Nazionale de Egnazia in an article from the London Telegraph, which we thought of as a possibility for a rainy day but the article also mentioned a nearby seafood restaurant, da Renzina, with excellent fried calamari; that's what we want for lunch.
Another easy drive up the coast along the 379, where we exit about Torre Canne, which reminds me of a Jersey Shore town, like Ocean City or Seaside, and take the local coast road to Savelletri. Da Renzina is to your right, just as you enter the town.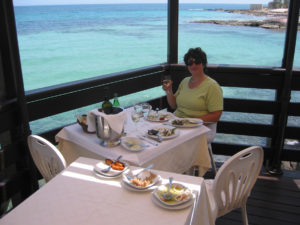 Da Renzina, with a nice size lot, also with canopies to cover the cars, is a large restaurant that looks like they have nightly entertainment (piano at least). When we enter, we spy a deck outside with tables and ask to sit out there. It's covered, over the ocean and with a warm breeze, perfect.
We start with the house antipasti, which ends up being a meal in itself and would be just about enough to convince me drive to Puglia on every visit to Italy. With it, we're served:
Mussels on the half shell, served in an oreganto fashion, with a seasoned breadcrumb coating
Fresh Anchovies drizzled with olive oil and chilled
Octopus Salad (which I admittedly skip)
Shrimp and Calamari Salad
Thin fillets of spada (swordfish) dressed with olive oil and fresh herbs (tarragon I think) also served chilled
Fried baby calamari
Some sort of frittata
Some other fried thing that I have no idea what it is
Fried and stuffed mussels with something akin to a hush puppy
And then, because we made the mistake of ordering our main course at the same time as our antipasti, we also get two fritto misto's which contain some calamari, scampi and two whole fish that I fillet for the first time, easily. If we'd known how much would come on the house antipasti, we probably would have shared a misto or maybe skipped it entirely. Oh and because we're utterly piggish, we also order a plate of French fries that rival Sciame in Montalcino for best fries ever. All this, with a bottle of water, cover and house white, comes to 56.60 € – a great deal. We ask if we can make reservations for Thursday night but unfortunately, they're closed Thursday and we know on Wednesday, we'll be enjoying Rosalba's cooking again at Il Frantoio. Another regret for this trip is that we only got to eat at da Renzina once.
While we're dining the wind shifts from the warm Sirocco to the cool Levante. We comment on this too the waiter and he tries to teach us the names of the other winds in the area. Earlier, at the visitor center, I'd seen a map with these winds diagrammed on it and now I wish I'd taken a picture of it. Armondo also talked about the winds last night while giving us a tour and explaining how they use the different winds in the different gardens. The people we've met all seem way in tune to nature, at least as far as the winds are concerned. I tell Chris we need more names for our weather systems at home and he reminds me of N'oreaseter, Alberta Clipper and Bermuda High but I still want to call the breeze off the ocean in the afternoon a Levante and need a good name for the breeze off the bay in the morning that brings the nasty green-headed flies.
After lunch we stroll through town to get gelato (because as a famous philosopher once said, there's always room for ice cream; it slides in the cracks). Most of the town is still closed for siesta but we manage to find a gelato store where I try latte de miele and hazelnut – yum. I decide I really like this town; Ostuni is too big for me; I guess I'm more a small town person and I decide Savelletri would do me fine in retirement (or for vacations).
Now we just need an apple in our mouths to finish the picture but instead decide to return to Frantoio for a nap. When we wake, still full from lunch, we decide to head into Ostuni to stroll around and find the bike store that Jonathan mentioned before we departed. We park in our usual lot, feed the machine and trek up this huge hill we believe will take us to the modern day shopping area.
Once at the top of the hill, we spy a TIM store and I enter, hoping to get this issue with the phone resolved. Chris can't wait to see me handle this and while I do manage to convey what I need to do to the woman in the store, we realize I need my passport for her to complete the information and I left it back at Frantoio (DOH!). We leave, dejected and do some major window-shopping as we search for the bike store. Finally, asking directions twice, we find the street and store, which does have some amazing bikes of course, I'm not buying any. I glance through their bike shirts but do not purchase, afraid that I'm not into those sizes, yet. Another regret for this trip, I should have bought a bike shirt.
Oh well, we now try to navigate down (and then up again) to the old city and one block off the Piazza Liberta a woman, I guess noticing our momentary confusion, automatically points us in the correct direction.
Once there, we stop in a bakery that smells wonderful and purchase mozzarella (really burata I bet) and potato foccacio and some ciabbatta. Next we stop at a store that's a combination Salumeria and fruitte e vedura (but not an alimintari) where we purchase some spicy salame, crudo, strawberries, biscuits and those crackers we like.
We return to Frantoio, and sit in the courtyard, hoping to have a bit of a picnic for dinner. We order the house aperitif (secret recipe but delicious – reminds me of a sea breeze), and start to open our packages but the winds whip and we don't make much headway. So we head into our kitchen and have our picnic inside while I read the IHT I managed to find as we strolled around Ostuni, only to discover, it's yesterday's paper, still better than nothing (and I can do the crossword).
We head off to bed, an early night.