I'm all over crockpot recipes that I can sit and forget. And the heartier the better for me. So I was psyched when I saw the Pork Ragu with Polenta Recipe in Cooking Light. That it comes in at 3 Weight Watcher Smart Points a serving is just an added bonus to its delicious, rich taste.
Now over at Cooking Light they give a recipe for polenta too as part of this dish. I love polenta. But there is no way after using the time and energy savings of a slow cooker am I going to spend 20 – 30 minutes stirring polenta, so I just used instant (ready in 3-5 minutes) and that was pefect for me (apologies to the Italian nonna out there)!
Enjoy!
Ingredients
2T canola oil
2-lb boneless pork shoulder roast, trimmed
1T kosher salt, divided
1t freshly ground black pepper
2T minced garlic
1 1/2T chopped fresh rosemary
1 1/2T chopped fresh oregano
6 medium shallots, halved lengthwise
1/4C unsalted tomato paste
1C dry red wine
2/3C fat free chicken broth
2T Dijon mustard
28-oz can whole peeled plum tomatoes, undrained
3 cups stemmed chopped kale
1T Red Wine Vinegar
Directions
Rub pork evenly with 2 teaspoons of the salt and pepper. Heat oil in a large skillet over medium-high. Add pork to pan; cook 5 minutes, turning to brown on all sides. Place pork in a 6-quart slow cooker (do not wipe out pan).
Return pan to medium. Add garlic, rosemary, oregano, and shallots to pan; cook 3 minutes, stirring occasionally, until shallots are tender and garlic is fragrant. Add tomato paste; cook 1 minute, stirring constantly. Add wine; bring to a boil. Cook 5 minutes or until reduced by half – mine probably took about 3 minutes. Combine chicken broth and mustard in a 1-cup glass measure, stirring with a whisk until smooth. Add mixture to pan; bring to a boil. Add mixture to slow cooker.
You can then add the tomatoes to the slow cooker, mashing with a spoon, or as I do, just take some kitchen shears to the tomatoes in the can, making cuts to break up the tomatoes there and then pour into slow cooker.
Cover and cook in the slow cooker about 7 hours or until pork is tender (I think mine took at most 6 hours but my low setting runs a bit high). Take out pork and shred it using 2 forks then return to slow cooker.
Turn the heat to high and add the kale and remaining teaspoon of salt. Cover and cook on high for about 5 minutes, until the kale is tender.
Serve over polenta (though over risotto, quinoa, or even grits will work).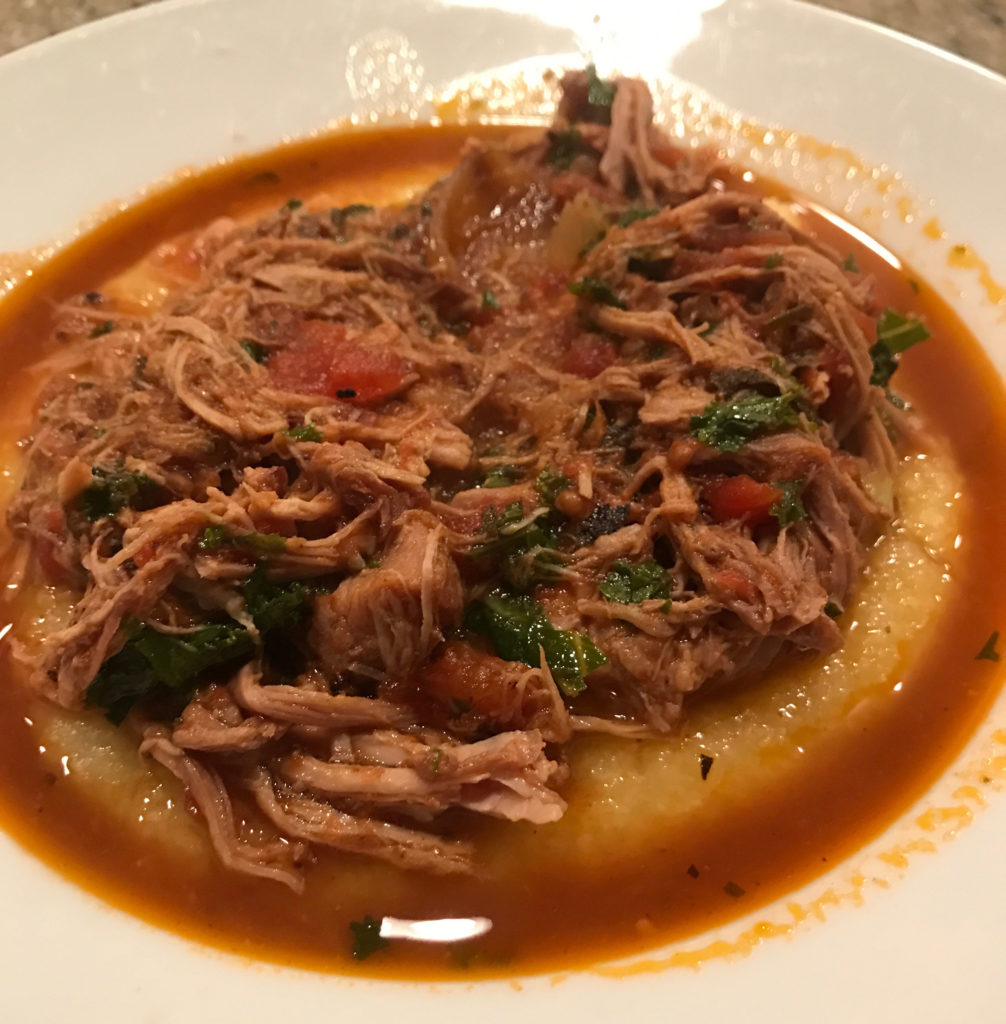 By the way, this freezes well too. I just took it out, defrosted enough in my microwave to loosen in the container and then put it on a pot on the stove over a low flame, stirring often to keep from burning on bottom until it was heated through.  By the way, after freezing and reheating, there was not as much liquid/gravy.