I'm back. Did you miss me this week? Guess when I'm going through chemo fog, and I haven't pre-planned entries, nothing is coming out. Well the fog has pretty much passed, a bit of pain lingers but no meds yesterday, so I'm ready to put that crappy chapter behind me (yes overly ambitious – I know the fatigue will linger for quite some time, but I can dream, can't I?).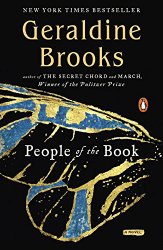 Anyway, onwards and upwards and as part of my return, to not just "normalcy" but to enjoying life again, I've been reading again and I don't just mean trip reports and vacation rental reviews, I mean real books. You saw a few weeks ago I read Queen of the Road and Wishful Drinking but now it was time to get into a real book, a book from a Pulitzer Prize winning author, so with that I took up People of the Book by Geraldine Brooks as it was our next Book Club selection.
I'd feared reading this book – thinking it would be too difficult for me, at this time, filled with lots of technical and historical facts that I wouldn't be able to comprehend in my muddled-brain state. With that in mind, I offered the book to Iboya to read first, working in a built in excuse as to why I couldn't finish it, if she took too long.
Iboya let me down though as she ripped through the book in less than two weeks and returned it promptly with time for me to start it a week before the last chemo … and I did.
People of the Book doesn't tell the entire of history of the Jewish people, or even, really a part of it as it's not the Torah that the book refers to but a Passover Haggadah (the book we read from during our Passover Seders, which recounts the story of the Jews leaving Egypt). The novel starts during almost present times (1996) as we meet Hannah, an Australian, on her way to Sarajevo to authenticate a 500+ year old Haggadah found there after the war, which had long thought to have been lost. From there, we're tossed back and forth between the ever increasing past and Hannah's present, as the story of the Haggadah unfolds for us, through clues Hannah discovers while she examines the book (e.g., a piece of hair, a crystal of salt, a stain).
When she returned it, Iboyla told me she loved the book and I understand why. I can't remember the last time I stayed up until 1:00am to finish a book (well, that and waiting for my daughter to get home from Sweeney Todd), but I did this one and it wasn't just because I needed it finished for tonight's book club. Though we only get brief glimpses into the lives of the people who the book touched, or who touched the book (Christian, Muslim and Jew), I still wanted to get to the end, to make sure that not only Hannah, the only consistent thread besides the book, had a happy ending but that the book did too.
Though easy to read, in a story-teller way, without large words and huge chunks of exposition or technical jargon, this wasn't a Pollyanna story – the author tells us at the beginning, through one of her characters, that not all stories have happy endings, and this one is no different. But there's enough expectation of happiness at the end of this one, I think, to satisfy even Stephanie, our closure fanatic.
Would I consider this book a timeless piece of literature? Probably not, but then again, I'm no expert. Is it a good story, told concisely and well, worth several hours of your time? Yep, I'd say so.
Oh, and here's the real kicker, the Sarajevo Haggadah is real. The author based this fictionalized story on the story of the real book, worth over $700 million. I think I may add seeing this book to my bucket list (if I ever start one).