Wearing
Black Jeans (maybe, maybe not)
Black Shoe Boots
Black Blazer
Which top? Pumpkin Sweater? Olive Green?
Clothing
Black Pants
Stone Pants
Chamois Pants (maybe – maybe not)
Pumpkin Top
Eggplant Top
Red Top
Black Top
Tan sweater and tank
Raincoat
underwear
Socks
bras
PJs
Black Sneakers
Electronics
French Cell Phone (thanks Amy)
Phone Charger
Adapter
Lap Top
Lap Top Plug
Lap Top airline adapter
Lap Top Ethernet cord (just in case)
Camera
Camera Charger
Camera cord (to hook up to laptop)
Ipod
Ipod Charger
US Cell phone (fully charged but off for return)
Head Phones
Accessories
Sun Glasses
Healthy Bag
Pens
Fold-up Duffle
Jewelry (maybe)
Books
My Sister's Keeper
Blue Guide Paris
Paris Walks
Journal
Plan De Paris
Rounding the Mark (Camilleri)
The Patience of the Spider (Camilleri)
Hygeine
Tooth Brush
Shampoo
Cold Medicine (just in case)
Tooth Paste
Deoderant
Makeup (maybe)
Blister Blockers
Advil
Sleepy Time
And after packing (still need Sleepy Time and US Cell Phone but did manage to get my workout clothes in there too):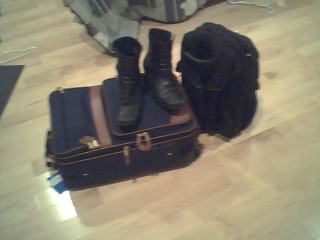 .
The boots, I'm wearing on the plane (I think).