I'm up early again, around six and can't fall back to sleep; unfortunately, there's no other area for me to hang and write (I was afraid the scraping of the sliding door to the balcony would wake Chris) so I lay in bed and wait for him. He wakes a bit before eight and we pack and head to breakfast.
They serve breakfast in a tiny room off the reception desk, which has available seating when we arrive but fills up quickly, leaving other guests standing waiting for a table. They have your standard hotel buffet, cornetti, granola, yogurt, orange juice and cappuccino and espresso upon request. Chris finally gets the cornetto he craves and I enjoy some granola and milk.
We eat pretty quickly knowing we do not have much time left on the meter. Grab our stuff, pay our 95€ and head to retrieve Claudio. Navigating out of Frascati is a bit of a maze of one-way streets but at this early hour nothing to cause stress and within a few minutes we're back on the Roma Sud heading to the A1 without any issues. It's nice having some English language music to listen too.
We get to our exit (Chianciano Terme, Chiusi), without problems, enjoying the scenery and spotting an antique car along the way. Something we notice for the first time at this exit, a large multiplex like we have at home sits on the S146. I don't know if it's new or if we didn't notice it off the fog-covered roadway during our last trip. We stop for gas shortly after exiting and pay over 50.15€ to fill our tank (hey this got us all the way from Puglia though).
As we wind into and through Chianciano Terme, we follow a slow moving peugot with French plates. It frustrates Chris to no end, but I tell him to calm down; you never know that could be Kaydee from slowtrav in front of us. Finally, just past Montepulciano, we hit a straightway and Chris zooms past. He's really getting a kick out of having a manual again and driving on the hills and through the turns.
As we wind through the towns we also notice how many of them have signs against horn blowing. Actually, they look like trumpets with a red line through them and so I every time I see one, I ask Chris, "What do they have against trumpets in this town?"
Our original plan for today was to stop at either Pienza (Latte de Lunda) or Montechiello (La Porta) for lunch. Though, sometime yesterday we also decided to make a quick b-line for Montalcino, to drop our dirty laundry at the lavenderia, which closes at 1:00 pm and then head back out to lunch. Why? Because I'm dangerously low on underwear for some strange reason and Chris is almost out of workout clothing, though we're not sure why.
As we hit Pienza, we discover a zoo. Police stand in the streets directing traffic and hordes of people leaving tour buses swarm across the street. I look at Chris, and we both say La Porta.
As we leave Pienza and all the way to San Quirico we notice another strange sight, people parked along the sides of the road, some just standing, others sitting in chairs and still others stretched out on their bellies in the tall grass holding cameras with huge telephoto lenses. What's going on? We do notice some signs now too that we finally slow down enough to read, 1000 Migla, what's that?
We figure it's some sort of road race. We also figure we're going to need a different route from Montalcino to Montechiello but soon that all means nothing. As we approach San Quirico, we find the town filled with people, our route to the S2 closed and forced into a turn with no detour signs anywhere noticeable.
I grab the atlas and end up navigating us on our route Castiglione d'Orcia, Ansidonia and Monte Amiata approaching Montalcino from the south via Castel Nuovo Del Abate. If you don't like heights and you don't like switchbacks and you don't like hairpin turns, don't ever go this way. For me, it now becomes the treacherous road to which all others will be compared. Heck, once Chris pried my white knuckles from the "oh shit" handle, I figure it may have cured me of me fear of these roads.
One nice thing about it though, you're graced with some incredible views of the surrounding valley and an incredible approach to Sant Antimo Abbey. As we get into familiar territory, I look at Chris and say, "Where staying in Montalcino for lunch." He easily agrees. On the way from the abbey to Montalcino, I call Boccon Del Vino and make a lunch reservation for 1:30.
We pull into the free lot below the fortress as we're quickly approaching one o'clock and make a mad dash for the lavendria, making one wrong turn and asking directions from the Italian Men's Sitting Club along the way. As we arrive, we see the owner's son leaving on his motorbike but realizing we speak English, the owner grabs him to converse with us before he leaves. He tells us all the machines are full and they're closing shortly but we tell him we want to leave our clothes and have them wash and fold them and we'll pick them up during the week. He tells us that will be fine; they'll be ready Monday afternoon, yippee! If we understand the slip we get, it will cost us 16€ for the entire load, best deal yet!
We have some time to kill, so we decide to try to find the restaurant on foot, rather than drive. I remember an establishment along the road from Siena into Montalcino, that didn't appear to be too far from the city walls, and I'm wondering if that might be Boccon Di Vino. Rather than walk along the shoulderless road all the way, we cut through town, past the fortezza, down to Porta Cerbaia, turns out the place I remember is Enoteca Bruno Dalmazio not Boccon Di Vino.
We hike back to the car and Chris calls for directions, "One Kilometer from Montalcino, on the road to Siena, white building, dirt road on your right." Okay, we're good to go. Within a few minutes we find the sign, drive up the narrow dirt road, passing the restaurant on our right, and pull into an open area that doubles for a parking lot. There, we see cars with magnetic stickers on them saying, 1000 Migla.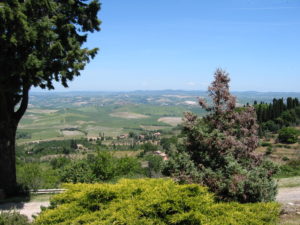 We walk around to the front of the restaurant, tell them we have reservations and are seated outside facing one of the most beautiful views I've ever seen. We're also next to a group of young men, enjoying lunch. Since no one else is around, we assume these are the 1000 Miglia men and ask "Que Cose 1000 Miglia?" Come to find out it's an antique car road race, taking place through Tuscany today. So with all my research into events in Tuscany, how did this totally skip my radar? (www.1000miglia.it)
Well, no matter, one thing I realize things always work out and giving up lunch at Latte de Luna or La Porta to sit on this patio turns out to be no sacrifice at all. Our server brings us a wine list and I love how they display each bottles label rather than a typed list. Chris asks her to bring us a good rosso and she returns with a Castelnovo 2002; again we're hesitant about the 2002s but we enjoy this wine.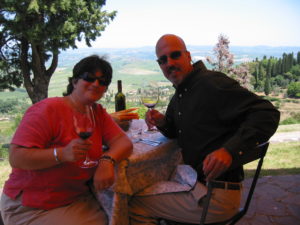 They start us with an unordered but much appreciated tomato bread soup, drizzled with olive oil, lick the bowl delicious. For my primi, I enjoy crostini neri, crostini with liver pate and a balsamic reduction, yum just like Rosh Hashanah at home ;D. Chris starts with pasta con tartufo bianco, also incredible. For my secondo, I have ravioli stuffed with ricotto, tonno and something green, sprinkled with toasted hazelnuts in a mild curried sauce but Chris picks today's winner, venison with a balsamic reduction, out of this world. No dessert but we do enjoy two cafes to extend our time enjoying this incredible view (actually reminiscent of the view from Mount Pleasant Winery in Missouri when the valley isn't flooded). A bit over two hours and 81.80€ later, after making reservations for Sunday pranzo, we're good to go.
We're renting our apartment through Project International, Isabella and Luigi Dusi's outfit but two weeks ago, Luigi let me know that he and Isabella would be out of town, on a tour, and to contact Alessandro P for access to our apartment between 4:00 and 7:00 (but to at least give him a one hour notice). We call him from Boccon Del Vino's parking lot and when he realizes where we are, he offers to come fetch us. We tell him there's no need and agree to meet him at his father's enoteca in about fifteen minutes.
We follow Luigi's directions to the parking near Piazza Cavour only to find parking has been forbidden this afternoon due to a festa taking place about 5:00. We turn the car around and return to the lot along Viale Piero just past the Madonna. Chris is not happy and all the relaxation garnered at lunch whooshes from his body as we trek down the hill. We get to Piazza Cavour and hang a right onto Via Mazzini, the main thoroughfare when our phone rings; it's Alessandro wondering about our status. We give him our local and he tells us to look for the bald man waving a bag and we spot him easily, and walk towards each other talking on our respective cell phones.
Alessandro leads us to Hotel Giardino and Mario who has our keys but speaks no English. Together they take us to our apartment on Via del Piano. Alessandro mentions that three ladies from Boston are also staying in this building, in the apartment next to ours.
We unlock the front door, and up a dark flight of stairs, which we can light by inserting one of our keys into a box next to the entrance, and we enter our apartment. The kitchen area sits to our left, really just a small wall with a sink, stove, oven and refrigerator/freezer behind a cabinet door; not much counter space for prep work but for as little as we intend to cook, it should be fine; Chris and I realized during planning, there are way too many good restaurants in which to eat. A kitchen table sits directly ahead of us amidst a family room area containing two large chairs and a small television that receives no English language stations.
To our left, beyond the kitchen but before the family room, a small hallway leads to a decent size bathroom with small, maybe 30"x30" shower and two bedrooms. One, on the left, serves as a study/bedroom, containing a dresser and two chairs that unfold into beds, good for children I'd say 10 and under but I'm not sure how comfortable they'd be for adults. Off this room hangs a tiny balcony that overlooks a small overgrown garden.
The master bedroom has a large king size (i.e., two twins pushed together) bed, dresser and armoire, nothing else. Cool terracotta covers all the floors. I find the apartment to be quite large and airy especially with the windows open and other than wishing for a bit more light in the bathroom (and a garbage can there) as well as the view that our original apartment offered, this should do quite nicely.
Seems to me, I've forgotten to mention the story of our original apartment. Originally, we were renting Ruga Alta (http://www.montalcino-tuscany.com/ruga_alta.htm) with a lovely balcony overlooking Montalcino and "the hills beyond." Unfortunately, a glitch occurred this past winter when I received an e-mail from Luigi telling me the owners of the building next to the one in which we were renting, were beginning construction on their building sometime in March. He didn't think the noise and dust would be conducive to our enjoyment of Ruga Alta. Instead, he offered to give us Vicolo Due (http://www.montalcino-tuscany.com/mario.htm), a larger two bedroom, for the same price but we were losing our much anticipated view. Such is life. I felt then and still feel that Luigi handled this situation as best as he could and appreciate his heads up on the matter as well as giving us the larger apartment for the same price.
Mario heads back to the hotel but tells us to call him if we have any questions while Alesandro drives us to Claudio so that we can retrieve our bags. He does not return us to the apartment though because he is late for an appointment with some Japanese tourists he's guiding around Tuscany, which leaves me wondering. If we had arrived any later, how would we know where to go to get into our apartment? As I always say, things seem to work out in Italy but it's not good for a type "A" personality who must always feel in control of situation, or maybe it is?
We grab our bags and roll them/lug them down the big hill back to our apartment, thankful that I forgot to shut the door to the so we could recognize which building is ours. We haul our bags up the single flight of steps and wait and wait and wait while Chris figures out how to unlock our apartment. I'm about to fetch Mario when Chris succeeds and we're back inside. Like our apartment at Il Frantoio, this has a "double-lock." One turn engages one lock and a second turn engages two; if you're not sure how many locks the previous locker engaged, well you could have some trouble.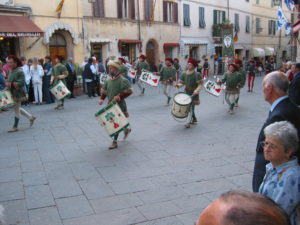 We unpack and here the parade/procession for the festa start. Montalcino is celebrating some sort of anniversary today, I can't tell if it's anniversary marking their relationship with Siena or freedom from Siena; I'm thinking the former. There's a bit of a parade with some people dressed in Old Montacinese costumes with one group representing the town and then four separate groups representing each quartiere, Pianello, Ruga, Travalgio and Borghetto (sp). They each play a different tune on their drums and horns as they march along. Chris turns to me, smiles and says, "I guess this isn't a no trumpet zone."
We stroll down Via Mazzini, admiring the many shops just opening from siesta. I can do some serious damage here. It's funny seeing shops and cafes you read about in a book (Vanilla Beans and Brodo) and then seeing them live and in person. I wonder if any of the people we see are people we've already read about.
We stop at Bar Alle Loge where Chris enjoys one of the brunello wines while I crave something cold and refreshing. I tell the girl behind the counter and she suggests a lemon soda. Other than being slightly sweeter than I expected (I haven't had a regular soda in a while), it does the trick.
We head back out to continue our "orientation stroll." Another thing I notice, many more day trippers fill the streets than I ever noticed on my own two previous day trips that were both in November. Not only bus tours but individual tourists seemingly from all over Europe, including Italy. As we get closer to the fortezza, we find in more and more crowded.
We head to the Coop, much to Chris's chagrin, as it should have reopened after siesta by now. We buy a couple of bottles of water, a bottle of Rosso, two juices, one orange and one the orange, carrot, pineapple blend I love, some paper towels and some toilet paper, about 20€. Chris insists on carrying both bags home though they're very heavy and both of us window shop along the way. His hands look crimson when we finally arrive.
We put our stash away and continue back out to explore and watch the procession, which has started again. Under the large loggia in the main piazza (popolo), rows upon rows of long tables have been set for a town feast that will take place after the numerous speeches about to be given.
We head back to the apartment to shower, rest and watch some bizarre Italian game show which looks like weakest link (we actually do pretty good translating and answering some of the questions). Then we're off to dinner at Grappolo Blu.
Luigi made our reservation for 9:00 before he left on his trip. We arrive and are seated within moments of our arrival. I find the restaurant more rustic than I expected with a more traditional menu than I expected but both are fine by me.
We're seated in the back room by the bar, and when we ask Luciano, the owner, for a wine recommendation, we're treated to a long lecture on the difference between brunello and cabernet, merlot and rossos. Way more info than we wanted but still interesting and finally we all agree (because Luciano definitely has an opinion) on a '95 Masella (sp) for 50€, ouch. When he returns and pours our wine I make two observations, as the brunello ages even past the release date it seems the color changes too leaning more towards maroon than purple. The other thing we realize after enjoying this wine and some younger brunellos later in the week, we are drinking our brunellos way too young.
I order the acuighe with pesto to start followed by sausage and cannelloni. Chris can't decide between the manzo stinco in a balsamic reduction and cinghiale. Chris asks Luciano what he prefers and we're about to get another long lecture on wild boar and balsamic reductions when Chris tells him, he's had both at other establishments and has enjoyed both. I want him to get the cinghiale so I can try it and Luciano suggests that I get one and Chris gets the other and I agree, changing my order. Luciano jokes, "Tonight, for once, the man wins," but I grin and remind him, "Only for tonight."
Chris starts with the pinci in ragu with mushrooms and when Luciano brings our primi, he offers Chris cheese but subtly shakes his head no. Chris asks why, and he tells him that the cheese will overpower the sauce, so Chris, trusting Luciano, passes. All the food is good, though the manzo reminds me of barbeque beef, which isn't a bad think just unusual.
For dessert, I have some strawberries and Chris enjoys a sambucca. Luciano offers to pour a tiny bit of sambucca over my strawberries and though not a big fan, he says the flavors meld nicely, so I tell him to go ahead. He's right; I have never enjoyed that licorice taste but against the sweet and tart of the strawberries it lends a nice flavor. Unfortunately, I do not note the final bill, but I'd guess, with that wine, about 100€.