Olive Picking and Montalcino
I'm too tired from our previous day to rise for my early morning walk, so I decide to sleep in. Eventually, we all head to the bar for our capuccini and pastry. The others head back while use the Internet access to catch up on my blog.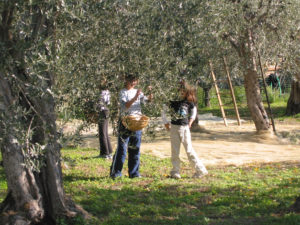 When I return, I find everyone helping Mark and the workmen picking olives. Al & Becky have baskets around their wastes and look real official. I pitch in and we spend a couple of hours picking olives. Mark has two properties, the other one does not have olives this year (bad harvest due to spring rains and wind) but this one has a decent amount. He says it will take about three or four days to handpick all of the olives here. There's a press down the road, on the outskirts of town that later the men and kids check out.
After picking, we decide we're hungry and pile into the cars and head to Montalcino. We travel using the dot-to-dot method, via Montisi, San Giovani di Asso, Montalcino (on the SS2 for just a moment). We park near the Fortezza, not in its lot but just behind and below it; it seems to be free parking.
We walk around trying to find a place for lunch; most of the stores are shut tight for siesta. We pass a small storefront (Trattoria Sciame, now L'Agnolo) that has some decent smells emanating from it, so we go in and ask for a table for sette persone. The woman behind the counter tells us five minutes and shortly thereafter, a group of workman (indicated by their coveralls and orange vests) leave and the owner seats us.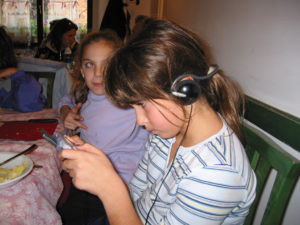 We order some bruschetta with olive oil and I get an order of anchovies with chili, oil and parsley – it's delish, especially sopping up what's left of the sauce with the bread. I have cinghiale stew over polenta, Steph and Al have roast chicken, Chris has pici con ragu, Rick has vitello in brunello, Becky and Sammi both get pici ai burro. The French fries at other tables look fantastic, so we have an order of those too but luckily we have the card that Alice Twain helped us prepare because when we give it to our server, she tells us the fries are made with peanut oil, so unfortunately, Al can't partake. The rest of us do though and they're fantastic. We have bottled water, vino della casa, two gelati, espressi and capuccini and the bill comes to 112€; not too shabby and decent food too.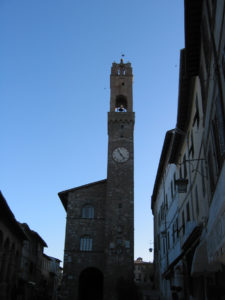 We walk around town, meandering in no set pattern since many shops still seemed closed for siesta. We view some ceramics then head up to the Fortezza for Chris to do some Brunello tasting but it's crowded (I think a tour just arrived) and somehow smaller than I remember. We head back down into town and stumble upon Osticcio instead.
Osticcio is a find; incredible views and what looks like a great selection of local items (cheeses, meats) and of course wines. We're all stuffed, so opt to do only Brunello tasting – two glasses. You can do two or four. You can also do a tasting of their other items.
I end up with a '98 Nardi and '98 Fulighi. Chris gets '98 Nardi and '97 riserva Il Paradiso. Rick gets the '98 Fulighi and '98 Il Paradis. It works out nicely because we share a bit and get to taste four different brunellos. Okay, here are my notes in my non-wine person speak:
Fulighi – Not much of a nose – sweet; no meat on the bones
Il Paradiso Riserve – Franco American Spaghettios on the nose, mellows as it sits but it still had a tomatoey thing on the uptake.
Nardi – Berry and Vanilla scent; woodsy taste.
The Nardi ends up as our favorite. We buy five bottles, some Nardi, some Lisini then stroll about town a little more. We stop at a pasticceria where I buy a lemon torte for dessert that night and try to stop at the local Coop but being Wednesday, it's closed. As we're leaving the Coop, we notice a line, six people deep at the gas station and fearing "they know something we don't" like maybe a strike, decide to fill up at a gas station on the way home.
When we hit Montisi, we split – Steph and Rick take Al and Sammi head home while Chris, Becky and I head to Sinalunga to the large coop to buy some stuff for dinner. We stop in Trequanda first, hoping to catch the famous butcher but unfortunately, he's closed.
At the Coop, I show Chris and Becky how to use the produce section. Becky gets a kick out of pushing the buttons and I can't tell you how many times, since we've been home, that I wished we had a similar setup in our local markets. We do run into trouble though with the apples because it turns out they're by count, not by the kilo. A nice lady stops though and shows us what to do. We also buy some ground beef, ground veal (didn't see any ground pork), onions, pepper and sausages.
When we get home, I take the celery, onion and carrot from the welcome basket and mince them, then soften them in a bit of olive oil on the stove. I add the ground veal and beef and brown them, add some whole tomatoes, breaking with a wooden spoon and some herbs left in the kitchen, just before we're ready to serve, I add a bit of whole milk from the fridge. Not the best Bolognese I've ever made but it serves us well in a pinch. We serve it over some of the pasta from the welcome basket, open a nice bottle of red and we're good to go.
The kids had eaten earlier, so they bathe while we eat and then we all have some of the lemon torte or some cookies for dessert. After dinner, Chris puts up a load of laundry and we hang out a bit, talking before we head to bed.