Negri Nepote Native Grassland Preserve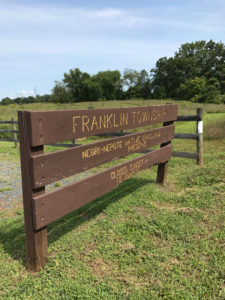 We've past this area often as we drive down to the D&R Canal but today we decided to finally stop at Negri Nepote to see what this trailhead was all about.  Turns out it's a pretty decent size nature preserve with a bit of marshland in it (you can view from an observation deck about 1/3 mile in), a small gravel path, well maintained grass paths and two areas of paths through woods. Total, about 3 miles of easy walkways in the middle of Franklin Township whose beauty is only marred by some of the high tension wires that run through part of the path.
Took us about an hour to walk it with a little confusion at some of the trail markers but this paper map available at the entrance was helpful and would only be better if they drew the wires on it as a point of reference. It's a carry in, carry out park with no restroom/picnic areas and dogs are not allowed (because of the sensitive nature of the grasslands). Also note, during hiking season, it may be closed. Lastly, most of it is full sun, so best in early morning and not in hot sun.  Definitely pretty though if you live in the area and are looking for a nice walk.
More Photos