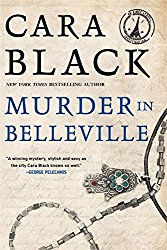 I can't remember who recommended the Cara Black series featuring Aimee Leduc to me but it was a while ago. I read the first one, Murder in the Marais, back in 2014. I didn't write a review for it and only gave it 2 starts on Goodreads (It was Okay) but I wonder if that was one that suffered in my shelfari to Goodreads conversion.
Anyway, I guess I liked it enough that when Amazon ran some Kindle specials on the subsequent books in the series (I believe they were $1.99), I bought a bunch. Murder in Belleville is the second in the series.
In this book, we find Aimee entangled in a refugee deportation crisis in Paris via her best friend's sister's involvement. Follow that? Of course, there are all sorts of different levels of power involved in this one, different pawns moving around the board and unlike other heroes, Aimee isn't pervy to all the knowledge and in many ways gets thwarted by much of what she does not understand. I couldn't help but also note the irony in that I finished this story only a few days before our own country's Muslim bans went into effect and chaos ensued.
Either way, I enjoyed this book enough to continue with the series (I'm giving this one 3 stars – I liked it). Having them set against the Paris backdrop is just an added bonus.