Montalcino Market Day and Lunch at La Porta
I didn't plan anything for today because I knew we were meeting Krista (KHB on Slowtrav) and Steve and Kathy (Kaydee on slowtrav), Kelly and Charlie for lunch. Our original plan called for everyone to meet in Montalcino for market day and then having lunch but after experience the dilemma of finding parking on Martina Franca's market day, Chris thought it might be better to meet somewhere else instead. We opted for La Porta and notified everyone earlier in the week via "Private Topic."
So for us this morning, it's our usual routine, only today we head to Fiaschetteria for breakfast because Chris likes their ciombolini (I think that's the name, basically an unfilled sugared donut). Again, two cappucini, two paste, and we're at 8€ for sitting outside in the sun of the piazza.
After eating and skimming the IHT (2€), we head up to the market, stopping in Sciame (it's also a morning bar) along the way to make a reservation for that evening. The owner recognizes us and takes our name and time down and we're off.
Montalcino being much smaller than Martina Franca, it has a much smaller market. Again though I'm left wondering how the local merchants feel about these vendors who stop into town each week plying merchandise that in many cases can be seen as direct competition. I remember reading somewhere, maybe in Bel Vino, that they're resolved to the fact since the weekly markets go back hundreds of years, more so than any store within the walls.
The market contains the usual assortment of household items, clothing, and food though we don't see a seafood cart which for some reason we expected. We do see someone selling lawn mowers and chainsaws which is new and someone else selling plants and seeds. I want to try to smuggle some arugula seeds back but Chris puts the kaibosh on that.
It's not long before we're done moving through the market and decide to return to apartment to pack. Always a depressing prospect but a necessary one, besides I do miss the girls and am looking forward to seeing them, not to mention Fala and sleeping in my own bed with my comfy sheets. After that nasty task is completed, we head to Piazza Cavour with our books to read on a nice park bench. It's a great little square with some shady spots and some sunny spots that vary based on time of day.
About twelve, we head up to the car, realizing there's not a parking space to be had in town, and glad we changed our lunch plans, and head out to Montechiello. We go via Pienza, not making the left turn on the 146 towards Montepulciano, but instead staying on the road that wraps around the town and then descends into the valley. Eventually, we make a left and follow this road up to Montechiello.
When we reach the tiny town, Chris drives up to the Port but there's no parking so he lets me out while he moves the car down the steep road to an empty parking area at the bottom. I notice a group of people by the parked cars admiring a view but don't think anything of it and head into La Porta to see if anyone else has arrived. Daria says we're the first but the table's ready if I'd like to sit. I tell her I'll be back in a minute that I'm going to wait outside for Chris.
When I return to the Port, one of the group approaches me, it's everyone from Slowtrav, Krista, Steve, Kathy, Kelly and Charlie. Chris joins us after hiking up the hill, and we head inside for lunch.
Daria's given us a lovely table outside on the patio overlooking the valley. We settle in for the long haul and start with some antipasti, water and vino rosso della casa. We get some bruschetta with tomatoes, an assortment of salami and an artichoke special for the day. Originally, we are going to order something else instead of the artichoke but Daria says it won't go well and suggests the artichoke special. I ask her if she has any other daily specials we should know about and she says, "Cod, but you don't want that."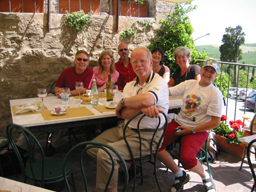 The appetizers are good and we all follow up with pastas. Now if memory serves, Steve and I both get the Pinci Al Algione, good but I still prefer Da Vestri's version. I believe Charlie and Kelly have the pinci con ragu and Chris has parpadelle con cinghiale. Oh, and Krista and Kathy have the ravioli. I think everyone enjoys the dishes; no one sends anything back and that's always a good sign. We finish up with café, declining Daria's offer of grappa and a luxurious three hours later we part. We have a great time getting to know people we already "know." Kaydee and gang still have the summer to look forward to and Krista and Steve are coming up on the halfway mark of their trip but we're leaving Montalcino in the morning and Italy the day after.
We walk down to our car and I turn over our hiking map of the area to Kathy and some Judy Blume books that Becky sent along to Kelly and after good-byes, we're on our way.
We take a different, quicker and maybe even easier route back to Montalcino, picking up the SS2 further south of San Quirico and it works great. If we'd known that our way would have been blocked last Saturday, we probably could have taken this route instead; live and learn.
Back in Montalcino, we stop for some gelato, and make one more purchase, another olive wood cheese board for my Mom. We head back to the apartment, pack that up and relax for a bit.
Later, Chris suggests we grab a beer and head up to one of the benches behind the Madonna to watch the sunset. As we're walking up Via Roma, we run into Mario who with his combination of Italian and pantomime tells us there's a beautiful view from the Madonna and we show him our large Peroni, Chris's small can of coca cola and tell him we know. He exclaims, "Ah, picnic!" And we're on our way.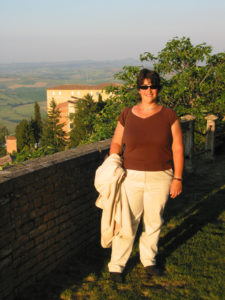 I can't think of many, if any, things better than sitting on one of these benches sharing a beer with Chris and watching the sunset over the Tuscan hills. Our regret, we didn't think of this earlier in the week.
Okay, we don't actually get to see the sun sink into the horizon because we made an earlier reservation at Sciame (8:30), so we finish the last of the beer and head over to Sciame for our last meal in Montalcino.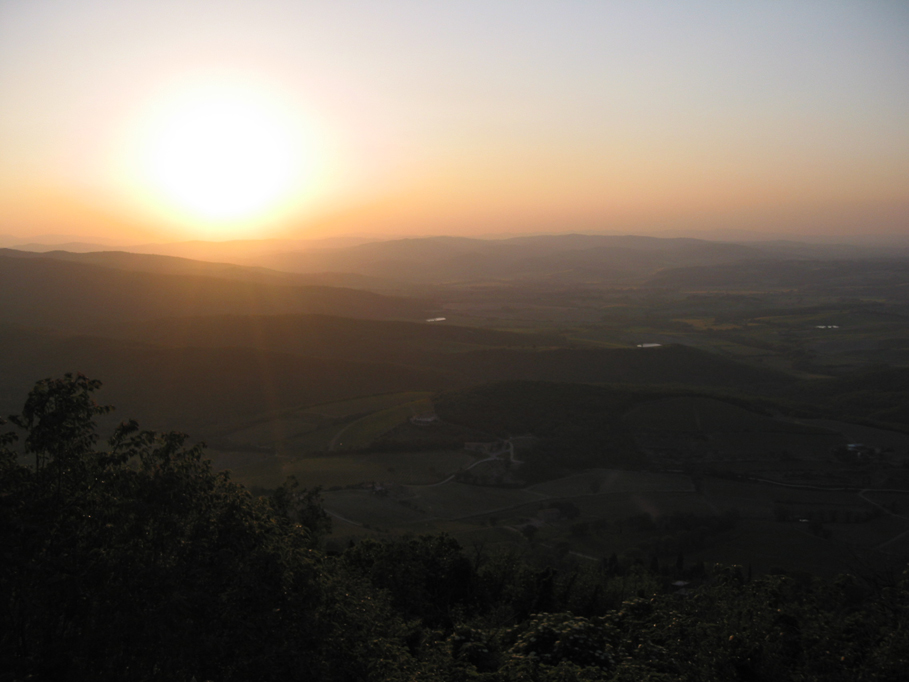 Originally, we thought we'd dine at Boccon Del Vino but having substituted them for lunch yesterday and of course, our cash scare, we figure we'd keep it simple with Sciame. We're seated immediately and while I know it will be too much food I can't resist starting with some of their anchovies in parsley, garlic and olive oil. Yum. For my primi, I realize I still haven't had any cinghiale and get the parpadelle con cinghiale while Chris gets their gnocchi con tartufo. Both are good and is it my imagination or do the portions seem bigger than the other night?
For our secondi, I get the roast chicken again, white meat breast this time, and Chris gets the cinghiale again which he still believes to be the best cinghiale he's had. And of course, a meal wouldn't be complete without a side of fries, though Chris now believes that da Renzina in Puglia actually has the better fries.
After dinner, the owner brings us a bottle of his limoncello which if I understood him correctly, his sister's friend made or his friend's sister, one or the other. We tell him we make it at home but ours isn't as good, blaming it on the lemons. All that with a bottle of water and a liter of the house wine for 54€. We're happy campers.
On the way home, we stop for one last gelato at Why Not (aka Perche No), and it's off to bed.