Mommy Dead and Dearest Review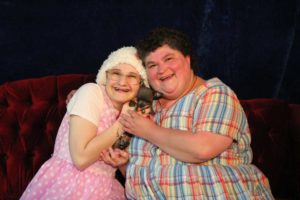 Mommy Dead and Dearest tells the story of Dee Dee and Gypsy Rose Blanchard and the bizarre events that ended in Murder. It's a crazy story one I first heard about while listening to the My Favorite Murder podcast. An aside here, if you're into True Crime and like to laugh, you should totally check out My Favorite Murder.
That said, Mommy Dead and Dearest is a documentary on HBO that you can also view via Amazon Prime or purchase through iTunes. It's filled with interviews of those involved, the victims' family, neighbors and actual police interview and courtroom footage as well as the killers' take on things. It's a fascinating tale of abuse and what I believe may be more a daring escape rather than revenge.
I'm trying not to spoil it below but read further at your own risk.
The Story of Mommy Dead and Dearest
Dee Dee Blanchard appeared to be the ideal and devoted mother to a sickly and completely dependent child, Gypsy Rose. Poor Gypsy suffered from a series of ailments including leukemia and muscular dystrophy that left her in a wheel chair and on a feeding tube. But looks can be deceiving and the story unravels after a Facebook post on Dee Dee's wall:
That Bitch is dead!
Further posts suggested that not only had Dee Dee met with a violent end but that poor Gypsy Rose was in physical danger too. The police are soon brought in to investigate, a victim's body found, and a manhunt ensues.
The Documentary
Throughout the Documentary, we bounce between the present and into Dee Dee and Gypsy's past. We bounce from interviews with family and friends to the crime through crime scene photos. We bounce from police interviews and court footage to prison interviews. It's quite gripping but leaves some questions still unanswered about the nature of justice and what happens to all involved as a trial has yet to occur.
If you're a fan of shows such as Dateline or Forensic Files, you probably want to give this documentary a go.