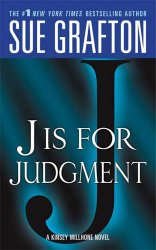 I just finished J is for Judgement, the tenth in the Kinsey Millhone series by Sue Grafton. In this one, Kinsey is on the trail of an ponzey scheme creater who may have faked his own death to avoid the collapse of his company and the inevitable prosecution. Against that we have the back story of Kinsey unravelling a bit of personal mystery of her own as long lost family members reappear. Honestly, the personal mystery intrigued me more than the main story, and ….
spoiler
the fact that it was left unresolved …
[collapse]
is what will propel me to read the next book in the series more than anything else.
Other than that, the book felt as if it plodded along a bit more than usual, with not a single appearance of Rosy the Hungarian Bar Owner, and very little of her neighbor, Henry. I'd say I was 60% in before I felt compelled to keep going but nevertheless, I'm for free from my library, I'm going to continue with the series.