We land about twenty minutes late after a completely unmemorable and uneventful flight. Who can ask for more than that? We find on this Friday morning, immigration to be a zoo, masses of people funneling into a few gates. EU citizens have it easier and they take a separate route to our right and whisk through. As we approach the gates, a man calls out for US citizens only, and while I'm hesitant to give up my spot in line, Chris pulls me over behind the crowd that has now formed behind the US-friendly man. We're also allowed to whisk through after a cursory glance at our passports but no stamp :(.
What I thought would take us at least an hour has only taken about twenty minutes and are bags wait for us at the baggage claim. Chris grabs them quickly from the tram and we head past Customs (no stopping) to the waiting area. A man holds a sign with our name and another family's name. He bids us to wait so we move behind a pillar hopping it will block the swarms of people around us from bumping into us. Tour groups abound, collecting their participants, Globus, Collette and cruise lines from Civatecchia.
Our man grabs us and navigates through the mass of bodies to the entrance doors where Sandro awaits. Turns out he's Sandro's father who was awaiting his own passengers, the second name on the sign, while Sandro finished his first run and returned for us.
Chris and I decided to rent our car from a location in the EUR for two reasons: 1) with the airport surcharge, even with the car ride to the EUR we'd still be saving about $100 2) We'd heard horror stories about the pick-up (i.e., lines) at the rental car places in the airport (although this really had more to do affecting our arrival date, Friday instead of Saturday since those stories all pertained to Saturday pick-ups).
Anyway, we catch up with Sandro on the brief ride to the Sheraton EUR, where we've rented our car. It also happens to be the location of Sandro's (i.e., Romalimo's) office and Sandro is friendly with the EUR representative. Sandro chats with his friend, and we have the paperwork and keys in less than five minutes. We both agree; this is one of the great values (i.e., the cost is worth the time/aggravation savings) of the trip.
We have a quick cappuccino in the hotel lobby bar and then head out to the lot where Sandro retrieves our car and moves our bags from his car to our new Alfa Romeo 156 rental, which Chris names Claudio. Next, Sandro hops into his car and leads us to Viale Christopher Columbo and easy directions from there back to the GRA in the direction of Napoli and then to the A24. We hit a bit of traffic on the GRA but nothing dramatic.
Temps when we left the EUR were about 20 but as we drive through some of the most magnificent mountainous vistas of Abruzzo, we see temps drop as low as fourteen and go through several bouts of rain. It's easy to understand why some of the mountains still have caps of snow in May.
Chris drives the entire way and does a marvelous job over mountains and through tunnels as long as ten kilometers. Overall, the going to the end of the autostrada is pretty easy or normal highway driving but the road from the autostrada to Atri has me groping the "oh shit" handle and holding my breath. Along the route though, I manage to summon enough courage to let go of the handle and call Vechia Silvia, a Buon Ricordo restaurant, to make lunch reservations.
Moving down from Atri towards Silvi isn't so bad but the fun begins when we get lost. We see a sign for Le Macine but whiz by it too fast to tell if we should have turned left there or need to make the next left. We end up doing the latter and climbing to Silvi Paese where we find signs for our lunch destination but not our Agritourismo.
We retrace our steps, go past the same sign but do not see a left turn anywhere. Again, we retrace our steps and decide to take the hard left about ten meters before the sign. We then see another sign almost immediately between two smallish apartment buildings for Le Macine and make a second hard left down a white gravel road. Moral of the story, if coming from Atri and you see a big brown sign for Le Macine, you've gone too far.
We drive for a minute or two and face an oncoming school bus which smooshes us off to the right as it passes. Finally, we are there.
Le Macine is made up of at least three buildings that we see and a fourth in the middle of renovations. We find the owners in the restaurant building and they take us to our room. It's small but with a nice little balcony with an amazing view. There's no television here, no safe, basically a simple room but for 90 € for the two of us including breakfast and dinner, who can complain? With getting lost, it took us under three hours to get to La Macine from the EUR.
We drop our bags and hop back into the car to head to Silvi Paese and Vecchia Silvi for lunch. Since we'd already been to the town once, we find it easily enough, park and walk to the restaurant for lunch.
There's only one other patron in the large establishment when we arrive and no one else joins us for the meal. I notice a piano there, and wonder if they do a large dinner crowd and/or have nightly entertainment.
Since Vecchia Silvia is a Buon Riccordo place I already know what I'm having for lunch. We both start with the house antipasti, a mixed plate of cured meats, stuffed tomato, stuffed mushrooms, crispy sautéed onions, bruschetta topped with a parsley pesto and another with tomatoes, all accompanied by a basket filled with at least ten different types of salami with which comes a cutting board and knife for us to help ourselves. It's all delicious and costs about seven euro per person.
Four our primi, Chris has tagliatelle con porcini and I have the BR speciale – timbale of scrippeli. I'd liken it to lasagna made with a tomato sauce, akin to Chris's grandmother's (sweet more than savory), with tiny meatballs and cheese. It's delicious but I can only eat about half because I am full. The waiter returns and seeing that neither of us has finished our dish asks if we didn't like it but I pat my stomach and ask him how to say "full" in Italian. I believe he says, "pieno."
With our meal we have a nice bottle of Montepulciano d'Abruzzo, which is the house wine, a bottle of fizzante and follow with two café for a grand total of 55€ (the BR meal accounts for 16 of that). I can easily recommend this restaurant if you're in the area; we'd give it one star.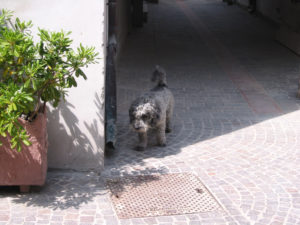 After lunch, we stroll around town a bit but most stores are closed for siesta. We do stumble upon a dog that looks remarkably like my friend's one-eyed, deaf, almost toothless dog, Harley (she adopted him that way; there must be a special place in heaven for dogs like that and their adopting owners). Anyway, after scratching the belly of Harley's twin, we have a companion for the rest our stroll.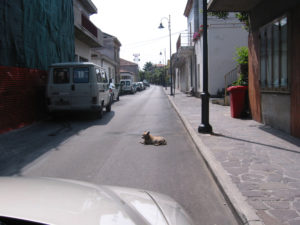 Soon though, we say good-bye to the twin, and head back to our car to return to Le Macine. On our way, we stumble upon another dog, this one sleeping in the middle of the road. No matter how much we creep near, or yell from the car, he does not move out of our path until I finally snap a picture of him. I guess siesta counts for dogs too.
At Le Macine, we nap in some lounge chairs by the pool for a while then decide to head to Atri for a stroll. Atri's not far and it's a lovely small town with a historic center. The cathedral looks beautiful but has huge holes in the façade as if someone plied marble from the base. Chris thinks the town looks relatively new or at least recently restored and wonders if perhaps it was bombed sometime during WWII.
We enjoy our first gelato, limone for Chris and nocciola and chocolate for me. We continue our stroll, and then head back to Le Macine stopping at a supermercaro along the way for some wine (a cheap Montepulciano d'Abruzzo) and plastic cups with which to drink it.
When we return to the Agritourismo, we enjoy some wine on our patio before showering for dinner. Unfortunately, our tiny shower has lousy water pressure but you can't have everything.
It's nice walking out of our bedroom and across the courtyard to the restaurant at eight-thirty for dinner. There's no menu, dinner is the same for everyone. We start with bruschetta topped with tomato and fresh mozzarella. Then some sautéed chicory bitter but good. It's served with polenta bread (think cornbread). For our primi, we have the local pasta, thick like Tuscan pici, in a sauce of tomato and something else, mint I think. Our server also put a small bowl on the table of minced chilies, which we find out you can mix with the pasta. We do and it gives a nice contrast to the mint. For our secondo, they serve some sort of braised meat on the bone; to me reminiscent of short ribs. We finish with a poached pear in a cream similar to zaballione, two café and Chris has a grappa for which we pay an additional euro and we're done.
Fully sated, we stroll the short distance back to our room and bed. During the night, I have some trouble sleeping and spend an hour or so reading Grapes of Wrath but eventually do fall back to sleep.