In NJ, we have this thing called Teacher's Convention. It's a basically a boondoggle for teachers where they get together in Atlantic City each year. The thing about this convention though, is that it isn't during the summer when teachers and therefore pupils are off from school. It's in November. And it's not on the weekend; it's on a Thursday, Friday, and I think part of Saturday. So once you get past the whole inaneness of the scheduling of this "convention," you realize it's a pretty good time to take your kids on a trip somewhere – off season, and the only other people you may run into are fellow "Jerseyians" or is that "Jerseyites?"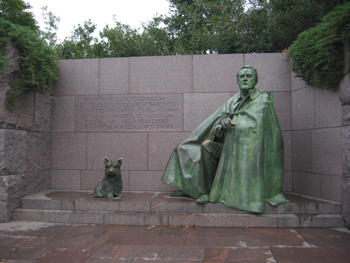 Normally, we'd go to Florida or Italy (yeah, I know, some choice), but this year, we're heading to DC (for reasons I could go into in another long post). Chris can't get time off (crazy project), so we're making the best of this with a long weekend. Originally, the plan was for Chris to arrive home on Thursday morning, work from home, and then we'd all head down on Thursday night, but then the girls and I really lose a day.
So, I'm doing something that terrifies me a wee bit, I'm going to drive down to DC with the girls (alone), and Chris will meet us there Thursday night. That settled, I'm hoping we'll hit the road in the nine to nine thirty time frame, arriving in DC in time for lunch and then a long, (really long), afternoon stroll around the monuments and the mall. Both girls want to see Fala (aka the FDR Memorial) and Sammi wants to see the Lincoln Memorial. In addition, we'll try to make it all the way down to Congress, so she can see that too. After wearing them out thoroughly, I figure we'll either opt for dinner at the hotel (they do one of those light spreads), take-out, or maybe we'll hit Sette Osteria for dinner (especially if Chris arrives in time to join us).
On Friday, if we're moving early enough, I'm thinking we'll drop into the National Archives so Sammi can see the Declaration of Independence, the Constitution and as she hopes, the Articles of Confederation. Sammi's never really shown any type of interest in this stuff, so I'm going to take advantage of it for as long as it lasts.
Afterwards, we can take the Yellow line at Archives, Memorial Penn Quarter, one stop to the Red line, and from there, head out to the zoo (maybe we'll do lunch in Chinatown first). I haven't been to the National Zoo since I was in high school and we used to visit friends that went to school at GW. This isn't the kids' request; it's mine. I like zoos. I really like zoos in October and early November because it's cool and I think the animals are more active. Another option to this day, is to reverse it (zoo first, then archives) but I'd rather get to the archives while the kids are "fresh."
Friday dinner, currently up in the air. I'll let Chris look at the restaurant list I put together on this Washington DC Google Map and decide. As long as the kids can find something to eat, I'm game for anything.
On Saturday, I'm hoping we can visit the Air and Space Museum which I think Becky would really enjoy. It opens at 10:00 but we can't blow an entire day there and we must keep the kids fresh because the coolest thing happens Saturday afternoon.
Long story short, we have a tour scheduled of the White House at 2:15 on Saturday – and if all goes according to plan, it's a private tour of the West Wing! No more on that at the moment, story to follow but needless to say, we're all very excited.
Saturday night, we have a get together with some fellow Slow Travelers at Dino. Looking forward to good conversation and good food.
Sunday, we're heading home. I'm not sure if we'll try to cram in one more site, or just hit the road after breakfast – guess we'll wing it based on mood and weather.