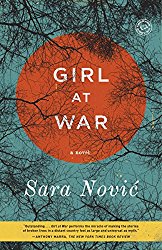 Girl at War was this month's book club selection. It's the story of Ana, who we meet at age 10 as war is arriving in her homeland, Croatia. From there we bounce back and forth over the next 10 years in Ana's life, learning about her involvement in the war as well as where she ended up afterward.
It took me a bit to get into the story, probably just past the first part, but I think that was more me, waiting for the shoe to drop than any issues with the writing or character development. Though once into part 2 (of 4), I planted to the couch until finishing the story a few hours later.  If anything, my only complaint is that we couldn't stay with Ana a bit longer (there is no closure here) but on the other hand, ending where it did feels right.
It does make me realize how woefully ignorant I am about the Balkan war and the history of that area in general – something to add to my to do list.
On the Goodreads five star rating I'm probably between 3 (like it) and 4 (really liked it) stars, closer to 4 and will rate it so on their site.