Today's our big trip day; we're heading to Florence so Steph and Al can see the David and for some leather coat shopping for Steph. But first, the girls head to the chicken coop, and success, fresh eggs, which we cook up for breakfast. These have to be the best eggs I've ever eaten!
We hit the road about 8:15 and reach the A1 in about 25 minutes. The drive is pretty good until we get to the Val di Arno where we run into thick fog and subsequently traffic. Then, once the fog clears we're still in bumper-to-bumper traffic from Firenze Sud to our exit.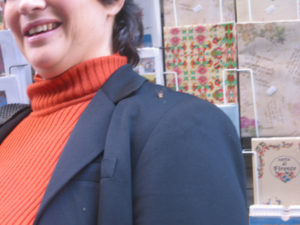 Once off the A1 we follow signs for Firenze, then Porta Romana, then we're through the gate and to the left for ample parking. From there it's an easy walk to the Pitti Palace. We stop near here at a bar for some breakfast and a bathroom. Next, we're off to Gianini Guilio e Figle for journals. Afterwards we make a b-line for the Accademia and our reservation. Of course, on the way a bird poops on my shoulder – yuck. Becky thinks it hysterical (actually, it is pretty funny) and I let her take a picture of the poop on me as a commemoration of the event.
We view the David (again). This time he has some scaffolding to his side but you can still see him clearly. For the first time I notice he has an oversized right hand and what appears to be a crack in his left hand. Steph sketches him but he looks girlish.
After the Accademia, we head to the Centro Mercato where we run into Judy (Divina Cucina), and I deliver to her some magazines. We talk to her and her students for a bit then continue strolling through the market.
We buy some raspberries which the girls devour in five minutes, strawberries, which later get smooshed, and the vendor gives us each a taste of some tiny melons akin to canteloupe, they're sweet and juicy so of course we get a couple of those and top it off with some oranges. Downstairs, we buy some baguettes that eventually get trashed when smooshed with the strawberries, a type of focaccia and another rustic loaf.
After the Centro Mercato, we head to the Duomo. Rick, Chris and the girls decide to climb while I show Steph around a bit and we treat ourselves to 3.50€ cup of cappuccino but it feels good to sit and rest a bit.
Views from the Top of the Duomo
We return to the Duomo just as the gang exists. Next up, we shop for some watercolors from those artists behind the Duomo. Sammi purchases one for her teacher, and Becky and I both get one for us.
Everyone's starving and wants lunch but no one wants to trek over to Marione (too far a walk). We end up stopping in some pizza place along the main drag. Can you say, "Rip off?" The pizza's greasy and not that good. I have pepperoni – spicy, and Napoli (anchovies & capers); the kids get plain and I can't remember what the others choose. Anyway, it ended up being 47€ for the seven of us (at Pasquales we paid 30€ for a similar amount of pizza plus two pastas and drinks and beer). Wasted calories.
After lunch, we meander over to the leather market, rub the boar's nose, and head to NOI where Steph buys an incredibly beautiful black leather jacket (soft like butter). I'm pretty sure she's paying more than she expected but it's gorgeous and should last her a good long time. While I'm helping Steph spend her money, Chris takes Al and Sammi for gelato (Becky passes).
They need to hold onto the jacket for a bit to shorten the sleeves, so we decide to do some more exploring and agree to return after five to claim it. We head over to the Piazza Della Signora to check out the fake David but scaffolding blocks it. We hover around the piazza, watch the human statues, take some pictures and then meander on to Santa Croce.
They charge us 4€ to enter Santa Croce; I don't remember paying last time. Plus, for some reason to me, it didn't look as magnificent as I remembered; not sure if it's the lighting, if some artwork has been removed or if it's that same old issue, you can't recreate memories. Nevertheless, we find the tombs of all the dead people we want to see and then head out. Which reminds me, is Marconi actually buried in Santa Croce or is that just a plaque commemorating him?
Now we head to Verrazzano for a late day snack but of course stop at Vivoli's on the way for Becky's straciatella and my noccio. At Verrazzano, we share a bottle of '99 reserve with a mixed cingiale platter and some foccacia sandwhiches. We relax for a bit then head back to NOI to pick up Steph's jacket.
Across from NOI we spy a small alimentary where we buy more pasta for the kids. It's getting late now so we make our way back to the cars via the Ponte Vecchio, to Via Romana to Piazza Passo and the car. The machine to pay is busted, so we head to the shack to pay and get tokens, it ends up being 12€ for eight hours – not too bad.
It's easy getting back to the highway just follow the signs for the A1. We get stuck in some major traffic due to an accident, which delays us at least 30 – 45 minutes. A quick stop at the Coop in Sinalunga to replenish supplies and we're home about 8ish.
The kids get their usual pasta, as the adults nibble on some cheese, and the melon we bought earlier. Then exhausted, it's off to bed early. I'm glad Steph and Al got to see Florence on this trip but because of the distance and possibility for traffic, I wouldn't recommend it as a day trip from our area.