Earthly Remains – a Guido Brunetti Mystery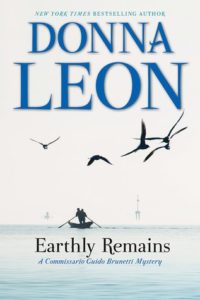 Earthly Remains – a Guido Brunetti mystery is Donna Leon's 26th book in the Guido Brunetti series. It veres slightly from her normal formula. Unfortunately, losing some of what I enjoy most in her books. In this story we join Guido on the verge of making what we used to call in Consulting a CLM (career limiting move). Or in this case, it could possibly be a CEM (career eliminating move), but he quickly covers by feigning illness. Don't worry, I'm not giving too much away there.
Anyway, questioning his own behavoir he determines it's time he takes a break from his daily grind. Paola, his wife, quickly agrees and offers up a relatives home on one of the islands in the lagoon. And for me, that's the issue. You see one of my favorite parts of this series is not the mystery, but the interaction between Guido and Paolo as well as with their children. As a matter of fact, I'd be incredibly happy if Donna Leon wrote a book just describing a month's worth of meals prepared by Paola for Guido.
From there though the story in Earthly Remains takes off. Once on the island, after a few weeks of rest, Guido is thrust into an investigation with personal overtones. It forces his from vacation back to work (thank god because at least we get a bit more Paola then). Like many of Guido's mysteries, this one does eventually unravel but perhaps not as we would hope.  Yet, that often seems the case with justice in Venice, at least in Donna Leon's view of it. True or not, I can not say, but frustrating it can be.
Either way though, if you're a fan of the series (and if you're not, I wonder why?), feel free to go right ahead and delve into this one. You'll be glad to spend those hours in Guido's world.