This morning Rick and I are once again the first ones up and decide to go for a walk. We follow the same route I took yesterday, traveling all the way to the bottom of the hill and about half-way up to Santa Anna. It's another beautiful morning, clear and crisp. We decide that Friday, we'll hike to Santa Anna and let the others meet us there with the cars.
We return, shower and dress, and head to the bar for breakfast where we enjoy capuccini and croissants. On the way back we notice that the small Coop is open, so we stop there for fruit (the woman behind the counter picks it out for us), paper towels, dishwashing detergent, cookies and orange juice.
Back at the house, the girls have gone to the chicken coop and return with one egg, only it's marble, not real. They were so excited but Rebecca tells us they keep the white egg their to trick the chickens into laying eggs. Becky returns the marble egg but later that day she and Al will return to retrieve two real eggs.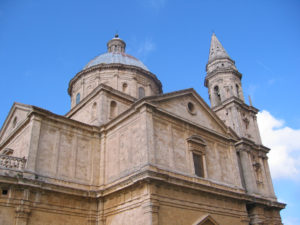 Our caravan pulls out of the complex about 9:50 and head to San Biago where we're meeting Peter Kilby. Peter is waiting for us when we arrive. He takes us on a tour of San Biago, first by us crouching on the ground and peering through some "basement" windows where we see piles of bones strewn about under the church. Inside the church we find a stark building with incredible acoustics. If you stand on the circle, you can hear the ricochet.
Afterwards, we get in our cars with Peter riding along with us leading us to DEI. We'd first heard of DEI back before our first trip to Italy. DAMarkwood on the AOL boards came home from her honeymoon trip reporting that their wines were BWEH (Best We Ever Had). At the time, we were beginning to develop an interest in wines and managed to track down some bottles. Eventually, we ended up with several bottles of their wine in our "cellar" (really some racks in the basement), and Chris has always wanted to visit. Peter's friendly with Catarina Dei (who runs the winery) and set up our tour and tasting.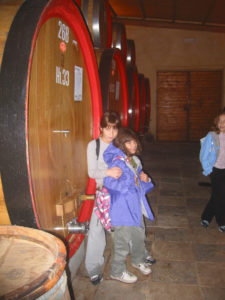 When we arrive we meet Antonio and also briefly Caterina's father (who later enjoys watching our kids play outside while we enjoy tasting some wines). Antonio gives us our tour in English, with occasional Italian smattered in and Peter translating. It's a relatively small operation (makes Verrazzano seem huge), but wonderful.
We learn about the Rosso (aged for two months in barrels), the Nobile (aged for two years), and the Reserve (aged for three years). These wines are made from sangiovese (80%) and another grape (20%). We also learn about the Santa Caterina (Cabernet/Syrah/Sangiovese), which is aged in much smaller barrels and only made during years of good harvests. Which is something else we found interesting, in years of bad harvests, the grapes get bumped down, so your nobile or rosso can actually end up being pretty good.
We taste the Nobile, the Reserve and the Santa Caterina. Antonio accompanies the tasting with some soft pecorino and bread to clear our palettes (as if I could tell). We end up buying four bottles of the Santa Caterina, which we think our friends will enjoy because of the soft tannins, four bottles of the reserve and two bottles of the rosso (for the house).
When Antonio mentions the 97 being their best vintage, Chris tells him we have two bottles at home. He smiles and takes Chris to a "back room" where they have a small separate stash of some of the 97s. He offers Chris the 97 reserves instead of the 99 reserves, which of course we jump at. Antonio also tells us the Reserve and the Caterina can age up to fifteen years. Somehow I doubt they'll last that long in our home.
We gather the kids, who have discovered the dog (and old friendly German Shepard) and his doghouse (an old wine barrel), and head back to San Biago. Peter gets his car and we head to Montechiello along some major switchback roads. I'm white-knuckling it while Sammi is not doing well at all. Now I'm wishing I listened to Grinisa's advice and swiped some of the barf bags from the airplane. We finally arrive just as Sammi threatens some projectile vomiting but once we get her outside on some stable ground, she perks up within minutes. We head to La Porta for lunch.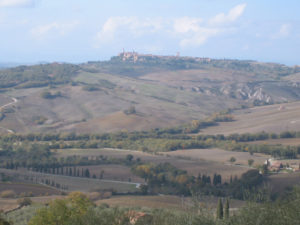 Peter has a quick lunch of a glass of wine and some polenta with cheese then heads out. We settle in for the long haul. Becky and Sammi enjoy some gnocchi while Al enjoys Pici. We, the adults, start with a salad containing Pecorino, truffles and bruschetta. I have pici with duck sauce, delicious. Stephanie, Rick and Chris have Pici con ragu. As we eat, we discuss how good the polenta that Peter enjoyed looked so we order one to share amongst the four of us.
After lunch, Daria, the owner, places a bottle of Grappa di Brunello on the table. To me it tastes of tobacco, grape and turpentine (well what I'd imagine turpentine to taste like), definitely an acquired taste.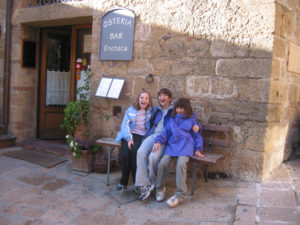 Once finished, and well sated, we stroll through Montichiello. Not much there but with two restaurants, I could stay there (if it weren't for those switchbacks). As we're walking around, we stumble upon a man picking olives; he gives each of the girls a small olive branch. And somehow, don't ask me how, Chris ends up trying and un-cured olive – yuck! But then again, what can you expect from the man who also tried baby formula?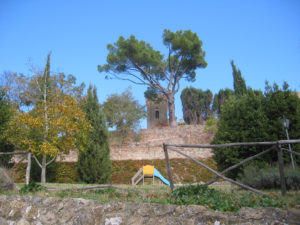 There's a park along the outer walls at which the girls play for a while as the adults sit and enjoy the views. Eventually, we hop back in our cars and head back via a different and easier route, which comes out by Pienza. No one feels like stopping so we head home.
Later, it's pasta for dinner for the girls again and the adults head to Carmalengo for dinner. We leave Becky and Allison in charge and practice dialing our cell phone from the house phone. We're a five-minute walk away, so we're all hoping this works out.
We're the only ones in Carmalengo when we arrive (it's upstairs above the bar). We order some bruschetta to start. I skip a primi but Chris has Pici al Ragu and Rick has a gnocchi baked with cheese. For secondi I have Straccitella (sp), a beef dish cooked with wine and peppercorns; it's very good. Chris has some other beef dish and Steph, who also skipped a primi, and Rick have some type of stewed chicken dish – also good. As usual we get wine and water.
While we're waiting for the primi, the phone rings once but we have bad reception and can't hear anyone on the other kids. Rick and Chris take off for the house, and of course their primi arrive while they're gone. But they both return quickly as it turns out, Sammi was a bit frightened and wanted to talk to us, so Becky called. By the time Chris and Rick arrived, she'd already calmed down.
Eventually, though no one's smoking upstairs the restaurant seems to get a bit smoky from the bar downstairs. I wonder if that's still an issue now that there are no smoking laws everywhere. We make the short walk back to the house and to bed.