Chili Lime Black Bean Soup
It's bean season here and that means I'm trying Chili Lime Black Bean Soup!
You may ask, "Why is it bean season?" Well, let me tell you! It's bean season because Weight Watchers introduced their new plan, FreeStyle, this week. And with FreeStyle, beans have 0 smart points!
If you're not familiar with points or Weight Watchers, check back later as I'll be explaining some of that in an entry here: Weight Watchers Freestyle. For now, it's enough to know zero points for food is good!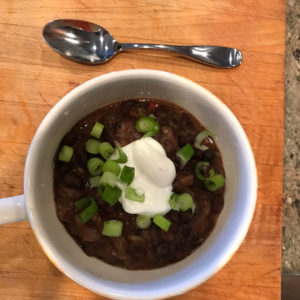 Back to the Chili Lime Black Bean Soup
Since beans are free I started to search the Weight Watchers site for bean foods. I love beans but when Weight Watchers switched to Smart Points two years ago, beans were costly, so I didn't eat them as much. Now it's like beanapalooza!
I found this recipe on Weight Watchers for one point per serving. It didn't take much tweaking though to get this to zero points per serving. And as I said zero points is good!
Ingredients
1t olive oil (the original recipe called for 1T, which contributed to the reason for the 1 point for serving. Using my scan pan, 1t was sufficient).
1 large onion, chopped
1 medium jalapeno, seeded and chopped
1T minced garlic
1t kosher salt
1.5t dried oregano
1/2t dried cumin
1t ancho chili powder (but really, does it matter?)
1/8t cayenne pepper
60 oz (4, 15-oz cans) of black beans, rinsed and drained.
2C Fat free chicken broth (their recipe called for regular broth which also contributed to the point total. BTW – I bet vegetable broth would work just as well for a vegetarian soup).
Juice of 1 lime
1/4C chopped cilantro (I forgot this)
1/4C scallions (sliced)
2T fat free greek yogurt (they used lowfat which added to the points)
Directions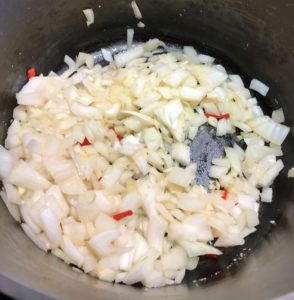 Heat oil in a large nonstick soup pot over medium heat. Add onion, jalapeno, garlic and salt, saute for 5-10 minutes, until onion is soft, stirring occassionally.
Stir in oregano, cumin, chili powder and cayenne and cook for 1 minute.
Toss in beans and broth to the pot.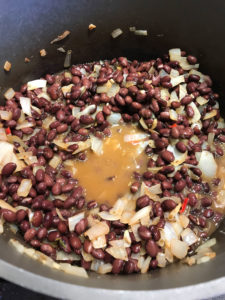 Bring to a boil on high heat and then reduce heat to low and simmer uncovered about 10 minutes (I accidentally did 20 minutes). Stir in lime juice.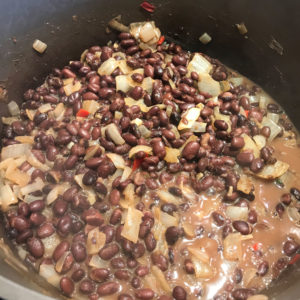 Remove from heat. Puree soup either in pot using an immersion blender or in batches in a regular blender. I didn't fully puree it because I like having some whole beans and it was still nice and thick.
Serve with a garnish of 1/2T yogurt, 1T cilantro and 1T scallions.
Yields about 4 cups.
Final Thoughts
I will definitely make this again! Only next time, I'm going to double or triple the recipe and freeze it because I believe it will hold up well in the freezer. Oh, and if you're doing simply filling, this fits that bill too!