Chicken, Edamame, Spinach Salad
Like a lot of recipes for me lately, this one for a Chicken, Edamame, Spinach Salad is more an idea than an actual recipe. It started with this Chicken, Edamame and Couscous salad from Cooking Light.
Over there, they mixed couscous, edamame, rotisserie chicken and a bunch of other ingredients to come up with their salad. I liked the concept and decided to adjust this to be Weight Watcher friendlier. While I was at it, I decided to make it Simply Filling too.
By the way, Simply Filling is one of two Weight Watcher programs. It's really similar to clean eating. It relies heavily on non-processed foods. While on it, you don't count points and eat mostly lean proteins, complex carbs fruit and veggies.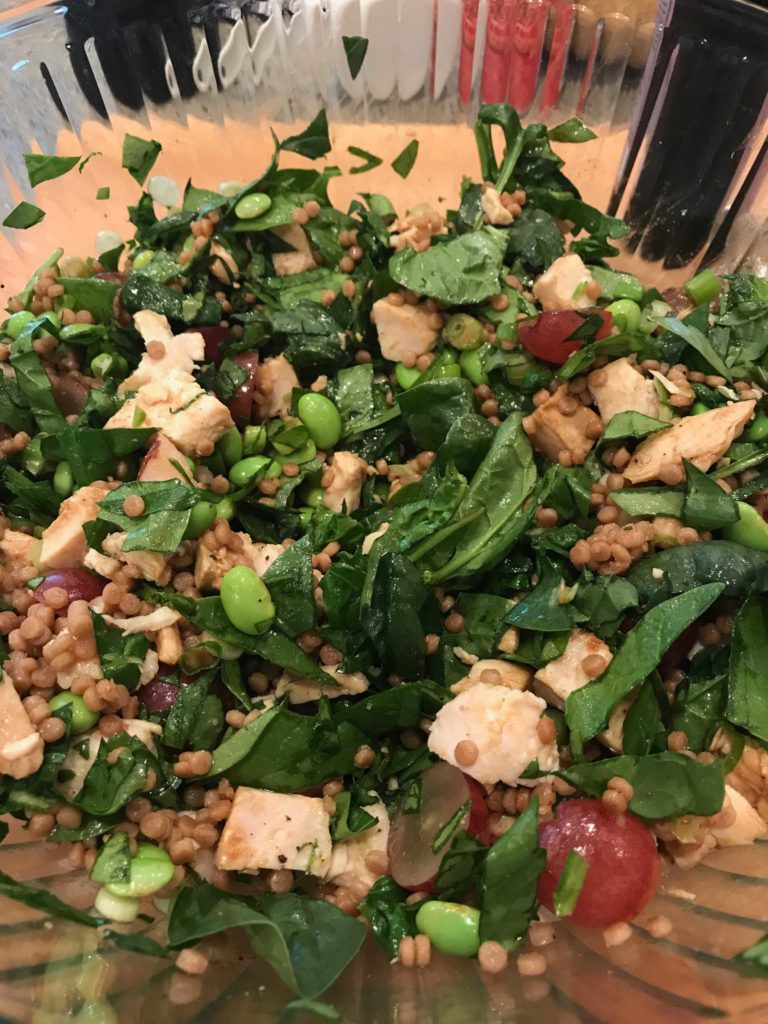 To start on the conversion, I replaced the rotiserrie chicken with Perdue Short Cuts – Original. Those qualify as simply filling. I replaced the dried cranberries with sliced red grapes. Next I changed the dressing ingredients, using only balsamic vinegar and much less oil. Finally, I didn't bother with the nuts. Now the recipe qualified as Simply Filling.
Luckily, I had fresh edamame from my CSA. So that worked out to be an extra boon!
As I said though, it's more of an idea rather than a recipe. So the next time I make this I may use farro or wheat berries instead of the couscous. I may also swap out the baby spinach for Arugula. Heck, I can even swap out the edamame for baby peas. Though I have to say, I really enjoyed the edamame in this salad. Anyway – you get the idea.
Ingredients for Chicken, Edamame, Spinach Salad
3/4 shelled edamame (I used fresh, but frozen, defrosted is fine too)
2-4oz baby spinach, coarsley chopped
9oz Perdue Shortcuts Original Carved (make sure it's original to be qualified as Simply Filling), chopped
2/3C uncooked whole wheat couscous
1C sliced red grapes (or go crazy and use black – idea not recipe remember?)
1/3C sliced green onions
1T balsamic Vinegar
1t good olive oil
Salt and Pepper to Taste
Directions for Chicken, Edamame, Spinach Salad
Cook the couscous according to package directions.
Mix everything in a bowl.
Eat!
As I said, it's Simply Filling this way. At four servings, counting Smart Points it's 4 points.