Cajun Chicken Red Bean Soup
I was going to make a chicken couscous salad for dinner tonight but it's a cool, rainy early September day so I opted for Cajun Chicken Red Bean Soup instead. I must have pinned this original recipe at some point to my Soup and Stews board and realized with some simple tweaks I could easily make this Weight Watcher friendly and Simply Filling.
First switch I made was to get rid of the butter. Yeah, I'm sure it would be delicious if you sauteed those veggies in four tablespoons of butter but is it really necessary? I replaced that with two teaspoons of olive oil.
Next up was the chicken. They used boneless skinless chicken thighs but I subbed and equivalent amount of boneless skinless chicken breasts. That was an easy one.
Last swap, replaced the white rice with the brown rice. That was it, an easy conversion from a semi-fattening recipe to one that qualifies as simply filling.
Ingredients
1 medium to large green pepper, finely chopped
1 medium yellow onion, finely chopped
3 stalks celery, finely chopped
3 cloves garlic, finely chopped (sensing a pattern here)
1 jalapeno pepper, finely chopped
2t olive oil
1.25lbs boneless skinless chicken breast, cut into bite-size pieces
2T cajun seasoning (they recommended a specific brand but I used whatever was on the shelves in my supermarket)
2t salt (I always use kosher or sea)
1 8oz can tomato sauce
1 15.5oz can small red beans, rinsed and drained
1qt low-sodium, fat free chicken broth
1 bay leaf
1/2C brown rice
4t worcestshire sauce
1T hot sauce
fresh ground pepper, to taste.
Directions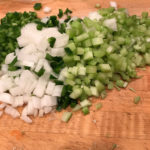 Now to the actual making of the dish … the hardest part seriously is chopping everything – so really not that hard.  They gave specific recomendations for quantity but I just used a good-size onion, a good-size pepper, a jalapeno, celery and garlic that I had on hand.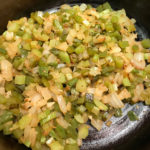 I prepped all the veggies first, then sprayed a large non-stick pot and warmed the 2t of olive oil over medium heat. I added all the veggies and sauteed for about 13ish minutes. The original recipe said about 20 but it didn't take that long for my veggies to be soft and the onion translucent.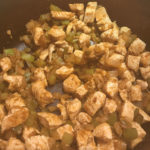 Add the cajun spice, salt and chicken, turn the heat to medium-high and cook until chicken starts to turn opaque about two minutes.
Add the broth, tomato sauce, bay leaf, red beans and rice. Bring to a boil, turn down the heat to medium-low and let it simmer for about 25-30 minutes (because of the brown rice instead of the white rice) or until the rice is cooked. Stir it often during this part so the rice doesn't stick (wasn't an issue for me).
If you're not into spicy, check the seasoning and if you want, stir in the Worcestershire sauce and hot sauce. Take out the bay leaf and serve with some ground pepper on top.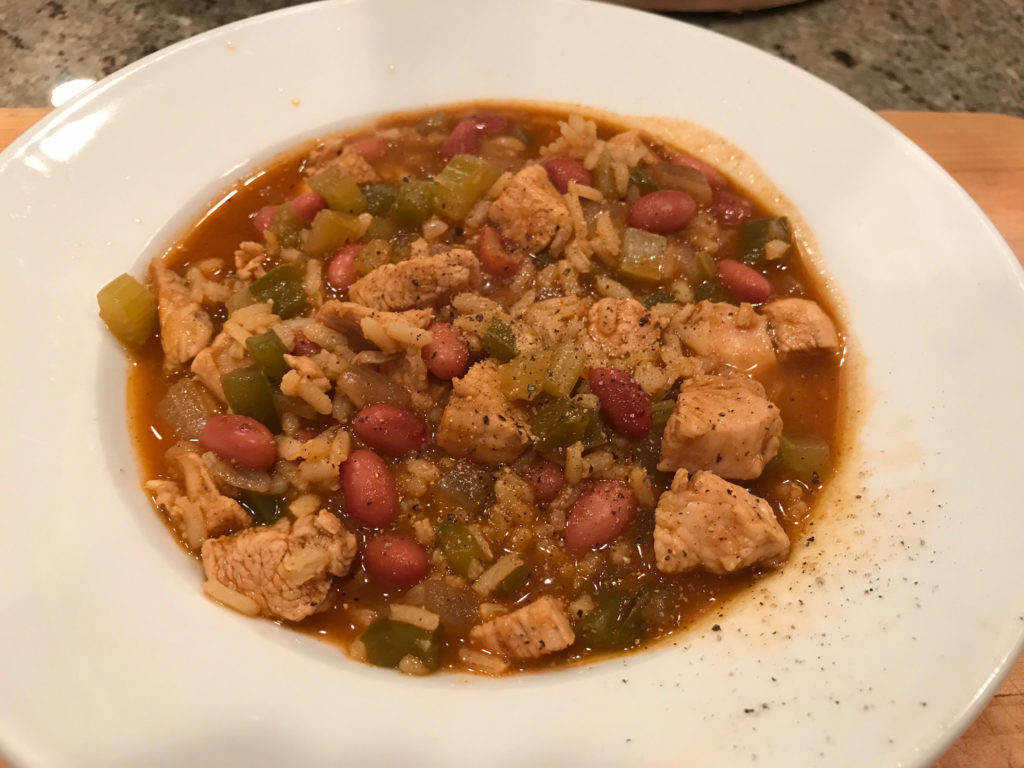 Oh, and just so you know, the longer the soup sits, the thicker it gets. This picture was taken as the soup sat while I wrote this blog post.
Ooh, last thing – as I said this is Simply Filling but if you are counting points it's 6 servings at 6 smart points each.