Budapest to Black Sea – Packing List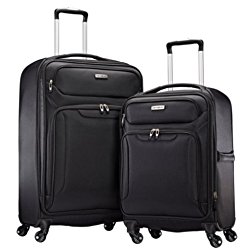 I keep debating about creating the packing list here or just doing a generic one for my bullet journal. In the end I decided on doing it here because of the time of year we're traveling (summer) and the mode (cruise), I'm thinking this list will be pretty specific to this trip.
First off, while I can pay expensive fees on the boat, I will not have access to laundry as I usually do when we rent a vacation home/apartment or even the laundry facilities when we've been staying at the Hilton Waikoloa. Second, because of the weather and the nature of the cruise, I'll need both shorts for during the day but nicer slacks/capris in the evening (at least I'm hopeful capris will be acceptable for evening dining). Right there, that doubles the amount of clothes I would normally bring. Lastly, I'll need some nicer outfits for a couple of evening functions (okay I'm really only bringing one simple black dress and hoping that will do).
Oh, and including travel days, it's a 14-day trip, which is the longest we've probably ever done.
So here it goes:
What Will I Wear on the Plane
This gives me some thought. Because it will be such a long travel  day (overnight flight to Brussels, with a layover and connection to Budapest), my heart goes to sweats but I just can't bring myself to do that. Furthermore, I'm expecting some heat (90+ temps) when we arrive, so while I'm toying with my black jeans, it may end up being just a pair of khaki's.
Black Jeans or Khaki Pants
Either Blue Stripe Oxford or purple oxford w/ 3 quarter sleeve
Sneakers
Lightweight Cardigan Sweater or Hoodie (I get cold on planes)?
Plane Carryon
This is my emergency, in case they lose my bag or there's a strike and I can't get my bag (see Israel 2006 trip).
2 underwear
2 socks
1 bathing suit (we're hitting the baths in Budapest on Friday)
lightweight khaki pants
belt (I don't wear belts through security so it's normal for me to stick it in my carryon)
1 shorts (Stone, leave behind)
2 short sleeve tops (black RL, olive shirt)
Medicine (see below)
Black Dress
Rain Jacket
Checked Bag
We're allowed 1 checked bag that's not to be more than 62 inches (length+width+height) so while I was in Costco I bought the Samsonite Ultralite 2-piece for $159 (as you may see it's $229 at Amazon – so if you want a set and don't belong to Costco, join as the you'll make up the membership fee in that savings).  Anyway, the larger piece works, my only complaint is I wish they had another color besides black but for $70 savings, I'll live.
The other thing you should know is I've recently dropped a chunk of weight and am in the procsess of sizing down my clothes. So, my idea for this trip is to much of my larger size clothes on this trip and leave them behind. This will also have the added benefit of leaving room in my suitcase for souveniers.
Black Pants (leave behind)
LL Bean Khaki (double check fit, may leave behind)
Black Jeans or Khaki Pants (see above)
4 capri (3 of which get left behind)
4 polos (red, black, violet, aqua)
2 tee shirts

(added)

3 tank tops
Blue Linen shirt (long sleeve)
Blue Strip Seer Sucker shit (3/4 sleeve)
Pink Striped Shirt (Long Sleeve)
Purple Striped Shirt (long sleeve, roll)
RL Olive Shirt
RL Pink Shirt
Lightweight Slate Sweater
4 shorts (Black,Khaki(leave behind, stone jean (leave behind), Olive(leave behind))
paisley dress
Bathing Suit (hot tub on the boat)
Two workout outfits (there's a fitness room on the boat)
Keen Sandals
Underwear (12)
Walking Socks (need to buy more)
Black Clark Sandals (backup for walking as well as for night)
Electronics
I've decided to not bring my iPad. Well, actually, I'll bring my iPad or my Macbook but not both. Usually I read on my iPad in bed, but if I just bring my Kindle, then I can use it for both bed and on the deck. Chris will just have to live with a light on in the room while I read though. I also didn't bother with a European cell phone for this trip. Feeling a bit naked without it but what the heck. I'm also not bringing a camera with me. I realized I have no idea where mine is and I think the iPhone will work fine in that capacity, plus Chris will have his.
Oh, wait, I just realized that my tour books are on my iPad and the color won't transfer well to my kindle, so I guess I will bring it along afterall!
All of this will go in my backpack on the plane.
iPhone
iPhone Charger
Adapter (2)
iPad
Macbook
Macbook Plug
Headphones (noise cancelling, regular or both?)
Kindle
Kindle Charger
Fitbit Charger
Backup Battery
Accessories
Sun Glasses (backpack)
Healthy Bag (this or just my backpack – can't decide)
Bullet Journal Case (contains pens, ruler and the journal)
Fold-up Duffle
Jewelry (maybe)
Extra Pair Glasses (I fell last week and broke mine, luckily they're repaired but it made me realize I should keep an extra pair with me).
Eyemask (backpack)
Neck Pillow (backpack)
Ear Plugs (backpack)
Ziploc Bags (

added

)
Tauck Book (

added

)
Passport Photocopies (

added

)
Hygeine and Medications
Tooth Brush (carryon)
Flosser and Refills
Listerine
Cold Medicine (just in case)
Tooth Paste
Deoderant (carryon)
Blister Blockers (carryon)
Advil PM
Advil
Sleepy Aide (carryon)
Excedrin (carryon)
Immodium (just in case)
Handwipes
Downy Wrinkle Release
Laundry Detergent (for sink washes)
Shout Wipes
Tide Spot Remover (carryon)
Sunscreen (probalby should)
Razor (

added)