M is for Malice – My Book Review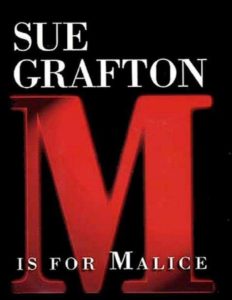 Finally finished M is for Malice this morning. It's the 13th book in Sue Grafton's Kinsey Millhone series. Kinsey is a private detective living in ficitonal Santa Teresa California (think Santa Barbara). She's a loner, originally with no family to speak of and a small, hodge podge group of friends for rare company.
Grafton started the series back in 1982 and recently just published Y is for Yesterday, the 25th book in the series (yes, they're alphabetical). So when reading one must remember Kinsey has no cell phone, email or internet. So far, the course of the series hasn't spanned much in years from the first as Kinsey is 32 in the first, and about 35 in this book. Each story usually starts within a couple of months of the previous story ending. I appreciate that as opposed to the never-aging Stephanie Plum in Janet Evanovich's world.
In this story, Kinsey's long lost cousin, Tasha, hires her to find a missing person. Tasha is the lawyer executing a will for a well-off Santa Teresa family. Their second son disappeared eighteen years earlier. It does not take long for Kinsey to track down Guy Maleck. It's not long after that that bedlam and mystery ensues.
My Thoughts on M is for Malice
This story took me a little bit to get into it. I kept waiting for the mystery to start. I knew something bad was going to happen to somone. But who? When? It was like waiting for the proverbial other shoe to drop. When it did though, the pace picked up greatly, the mystery unwound and came to a quite satisfying conclusion. Again Ms. Grafton kept me guessing. I had an idea on who the culprit would end up being but how she got there surprised me. I like that. Looking back, there were some clues but I missed them. I like that too.
Unlike other mysteries that grow tiresome as the character never grows or changes. Or when the author seems to dial the story in rather than work out something clever, I'm finding these are getting better and picking up steam. I've already put a hold for N is for Noose at my public library.
This probably rates for me between 3 stars (I liked it) and 4 stars (I really liked it). A solid 3.5 – too bad Goodreads doesn't allow for that.