Beef and Vegetable Stir Fry
Last weekend someone asked me what were some issues that I had adjusting to being an empty nester. I realized then (and now as my eldest has moved out), the hardest adjustment for me came to meal planning and preparation. With a husband who travels every week, I found cooking for just me daunting or exhausting or sometimes just a waste of time. Unfortunately that led to a lot of ordering food in or eating quick, unhealthy options.
So last week, when our Weight Watchers weekly contained a recipe portioned for one person I knew I had to give it a go.
Off the bat, I tweaked it a bit. First, for dinner last night, I upped the protein from 4 oz of flank steak to 7 ounces, increasing the smart points for a serving from 6 to 8. Using a  trick I learned from a Chinese cookbook, I opened my flank steak package, laid the steak flat on a foil-lined jelly roll pan and stuck it in the freezer for 20 minutes. The slightly frozen meat was much easier to slice thinly. Also because you never find a 4 or even a 7 ounce cut of flank steak, I sliced all of my two-plus pound steak and froze them in individual four ounce packages to use in the future (Thanks, Amy, you gave me the idea when you mentioned buying pre-portioned amounts on Facebook).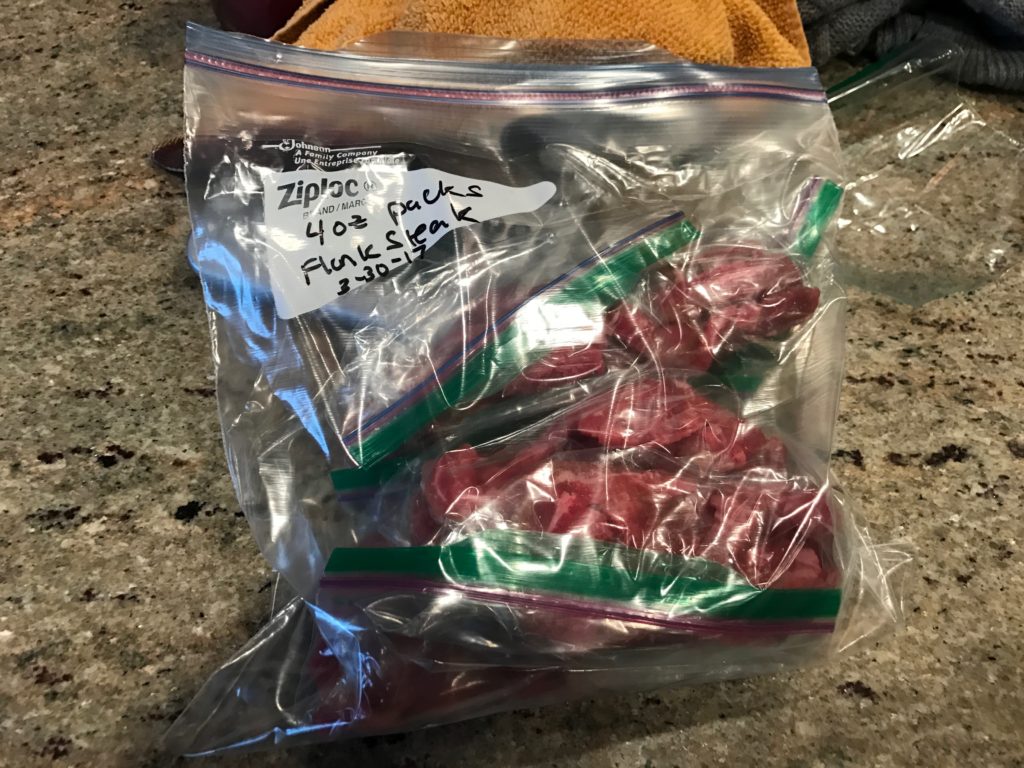 Next, I upped the quantities of veggies (basically I didn't measure, I just threw in lots). I also had some red bell pepper left over from yesterday's batch of Egg Muffins, so I threw that in too. Lastly, instead of using shitake mushrooms, I used pre-sliced baby bellas from the market as well as sesame oil instead of peanut oil, as I had no peanut oil in the house. Using so much pre-sliced stuff and having everything ready to go before cooking really made this recipe easy.
Here's the recipe:
Ingredients
2 cloves minced garlic
2t minced ginger
1t peanut oil (I used hot sesame oil)
4 oz thinly sliced flank steak (I used 7oz for an additional 2 smart points)
1T Asian Stir Fry Sauce
1C sliced shitake (I used 8oz sliced baby bella)
1/2C snow peas (I just through in a huge handful)
1/2C shredded carrots (again another huge handful)
1/4C sliced water chestnuts (I used practically the entire can)
10 peanuts, chopped (I actually used 11 without affecting the point total)
Directions
Heat garlic and ginger in oil until fragrant, maybe 30 seconds; add steak, veggies and water chestnuts. Sitr fry until beef is cooked and veggies are tender. A note here: I found the mushrooms I used released their water during this process, so instead, what I will do next time is first add the mushrooms, cooking those until water is released and evaporated, then add the rest of the ingredients. Sit in sauce and sprinkle with peanuts.
I believe too, if you use canola oil and leave out the peanuts, this recipe qualifies as Simply Filling. Oh, one more thing, I didn't want to use points on brown rice, so I threw some riced cauliflower in near the end of cooking. Easy, tasty and already portioned for one, so I'll definitely be making this again!