A Nest of Vipers – Book Review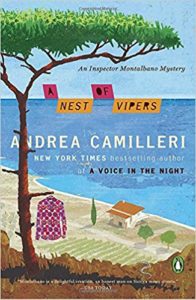 A Nest of Vipers is the latest installment in the Inspector Montalbano series set in Sicily. In it, we find Montalbano investigating the murder of a wealthy businessman. Though it isn't long before we realize that this "upstanding" citizen is not at all what he seems.
The usual routines that make Montalbano great, the delicious food, the comic relief from Catarella, the fights with girlfriend, Livia among them fill the book. It's a pretty standard formula at this point and this story is no different than the others.
A Nest of Vipers – My Thoughts
If you like the series, read this book, you won't be disappointed. It's a solid three stars for me over on goodreads.